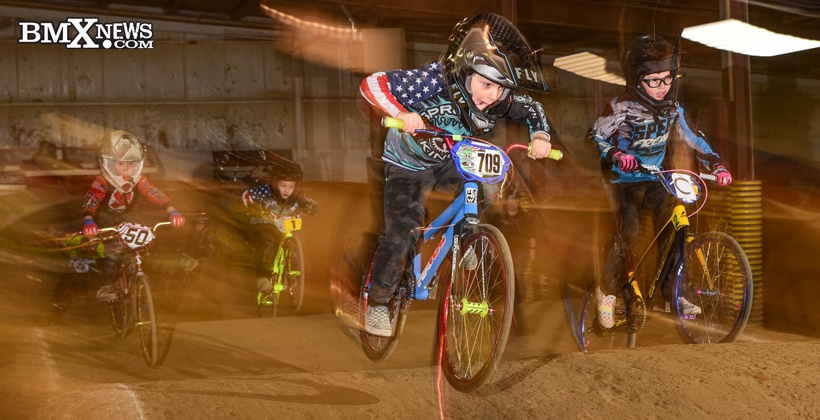 The 2021 Midwestern racing season came to an end this weekend in Hobart, Indiana as BMXers from around the region converged on Steel Wheels Indoor for a "Double-Double" weekend.
Saturday was the Bob Warnicke Scholarship race and posted 79 motos, stocked with both national name brand talent, and League graduates from Indiana BMX League and Elgin BMX League in Illinois getting their first multipoints experience.
Sunday plussed-up the moto count by two, and blazed hot and bright, giving racers of every age something to remember 2021 by.
News was on-site Saturday, and brought back a photo set which included both racing rounds, and main events (gallery link below).
If you're new to BMX News photo offerings, we post our shots—for free download— at 1500px per inch, which is "medium resolution." We have no problem with you using them for personal social media and even small-sized prints, if you want. We only ask that you please leave the BMX News logo in the shot, and tag us in any social posts
facebook: @bmxnewsfb
instagram: @bmxnews
twitter: @bmxnow
If you wish to purchase a full-resolution digital file for larger prints, or want to use the shot for other than personal use, email [email protected] and we'll get in touch with you ASAP.
Enjoy!
—Mike Carruth
---
Links
2021 Steel Wheels Bob Warnicke Photoset

---
This Photo Gallery is Presented by Time2Shine BMX