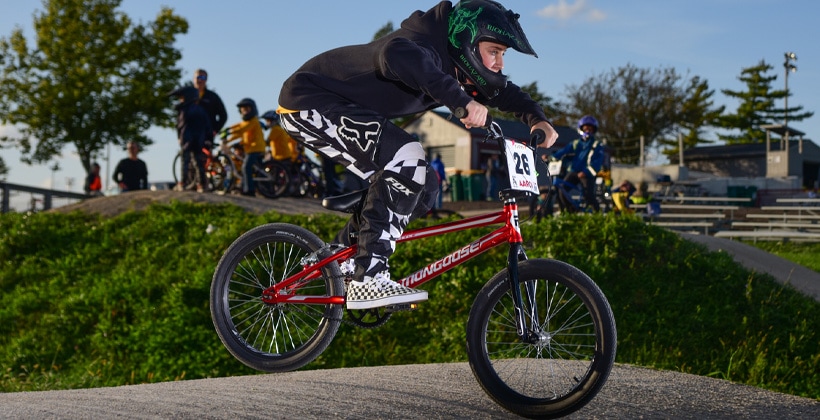 As someone who works with entry level riders on a weekly basis, I can tell-you-true that the thing most of them (well, more specifically, their parents) need and want is a reliable, race-ready bike at an approachable price.
BMXers tend to want to point them toward tasty, parts-perfect custom builds, with prices pushing four-figure territory. They see things through the "BMX Goggles," so it only makes sense, to them, to recommend the lightest, fastest race rail on the block. It is a well-meaning recommendation, but one that is six or eight months premature.
Enter the Mongoose Title Complete. For the past three years, the Title has enjoyed a narrow, but ever-growing, space in the market–along with DK, Redline Free Agent and a few other brands, namely race-ready, entry level bikes for the bunches of Beginners coming into our sport.
The title line is eight sizes deep (Micro, Mini, Junior, Expert, Pro, Pro XL, Pro XXL and Pro 24). The smaller sizes (Expert an under) retail at $299.95, while the larger sizes retail at $319.95 ($329 for the cruiser).
Today, we are looking, specifically at the Pro, Pro XL and Pro XXL models. The spec on these bikes is, more or less, the same, except for a larger frame as the size climbs.
We have been live-testing the Pro size bike for the past 14 months, on the track, on the street, and in the repair stand.
The test bike has undergone hundreds of race laps, from both experienced riders and BMX League loaner sessions. It has also undergone nearly 500 miles of on-street recreational riding (with an Answer BMX Seat Post Extender).
Through it all, the bike has needed a few flats fixed and a bottom bracket teardown, to eliminate a creaking down there, and that's about it.
To us, that is an incredible service record. We do not make "official" endorsements on products, but you can form your own opinion from the above.
If you ask about any entry-level bike on Facebook groups or at the local track, you will get both-ears-full of opinions on why these bike are not for you.
But let me tell-you-true: The entry level bike you buy today will serve you well, and in every case, when your rider sizes-out of it, you can sell it at the track to another beginner family for nearly what you paid for it (given that is still in good+ condition).
On this bike, and in most other entry-level-bike cases, you can make upgrades to it on an incremental basis (carbon forks, better wheels, better cranks, etc.).
The bikes have limited availability, and are currently on pre-order for the next ship date, coming the second week of December. They WILL sell out, so if you want one, follow the inks below and order now to receive it before Christmas.
Call Time2Shine at 888-714-5553 to ask about the Mongoose Title Elite bikes that are available and shipping now. It's a higher price point ($529 for the pro sizes), but the parts package is a definite upgrade from the entry level, and the frame has cool features like a tapered headtube.
---
Links
Mongoose Title ProXL BMX Race Bike
Mongoose Title Expert BMX Race Bike
---