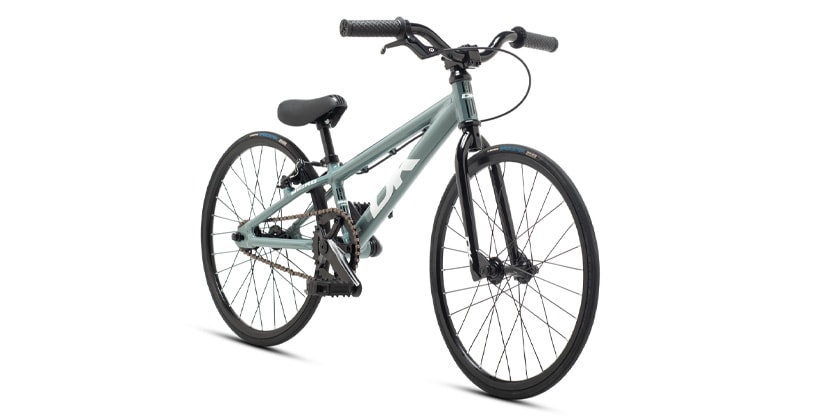 With tracks re-opening after the COVID break, and a nationwide run on complete bikes underway, we wanted to post a long-time crowd favorite among entry-level riders, that you can order up TODAY, and have on the track within a few days.
The 2021 DK Swift line of complete bikes has proven, year after year, to be a race-ready-out-of-the-box bike that will give years of racing, until your rider grows out of it. Then, it gets handed-on to the next in the family line of BMX-succession, or you sell it on the fence at the track.
Some of you may know that I work closely with Beginners-only League programs in the Midwest (Indiana, Illinois and Wisconsin).
For those who are not familiar, a "BMX League" is a beginners-only program that takes place over a five-week period. Riders participate in close-order instruction and racing. The tuition is "all inclusive," which means it includes a loaner bike and helmet, if the rider does not have their own. About 60% don't have their own bike.
I say this, not to tell you all about the League program (though that is a nice little bonus), but to say that there have been dozens of Swift loaner bikes in our fleet over the years, and they have always withstood the torture laid-down by our Beginner riders without a flinch.
And we keep an eye out for bikes that League riders have bought along the way…many remain showroom-stock, and others have some tasty upgrades for their pilot.
The Swift line benefits from the winning lineage of DK's storied race program, with a parts package, across all sizes, that lives-up to the race-ready-out-of-the-box goal that DK has been-about in all of their bikes, entry-level included.
With five sizes to choose from, including an 18-inch wheel size micro, and 20″ wheeled micro, junior, expert and pro sizes; most entry-level racers have a bike to throw a leg over and GO!
Check the links below for specs on specific sizes, and ordering infomation.
---
2021 Swifts are available in Teal and Grey (as available).
Currently Sold Out, but Available for Pre-Order
2021 DK Swift Micro 18" – Grey
---