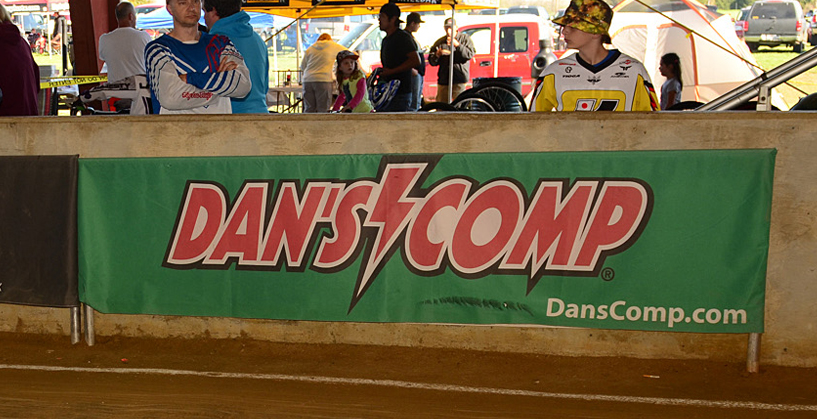 Over the past two years, the BMX community has watched as Dan's Comp went from one of the absolute commanders in BMX Mail Order, to a lesser-player and, more recently, to a "what's going on with…?" headscratcher.
In the BMX Newsroom, that made us very sad; the Dan's Comp crew were always big supporters of what we did here, and showed that support, both with ad dollars, and with their verbal encouragement of the importance of our work.
Both meant a tremendous amount to us, and this website really has not been the same since they stopped showing up at the races (the 2017 Worlds in Rock Hill was, to the best of our knowledge, the last race at which they vended).
The reason for the precipitous downturn is not widely known. Some say they over-spent, over-extended and over-anticipated the resilience of the BMX market (both Freestyle and Racing). Others say it was internal strife among the partners that tore the place asunder. Truth be told, the reasons are really none of our business, here in the BMX public. Sure, curious observers want to know, but it's moot at this point.
This spring, we heard there might be a renaissance afoot, with Dan's returning to the races, albeit with a scaled-down footprint, and efforts to breathe new life into the mail order site. Those seem to have been just rumors, unfortunately.
This whole episode was also a raw lesson in how things tend-to work in the world of sponsorship. For years, Dan's Comp supported dozens of teams, dozens of riders, websites, magazines, etc. It was shocking, and disheartening how quickly people's attitudes turned once the cash stopped flowing. Stickers came off number plates, hashtags stopped being added to social posts, and it seemed most people just turned their backs on their former friends.
For our part, we kept the Dan's banners running at no cost for about six months after renewal calls went unanswered. Part was in hopes that they'd get the engines fired-up again before disappearing under the waves, and part as an acknowledgement for the support they had given us over the years. I only made the decision to pull them down after a reader complained to us that products were no longer available to order, and questioned why we would still run ads, given that situation.
All of the above sets the stage for this week's news. A press release was posted to the Dan's Comp website last Friday, telling of the acquisition of the Dan's Comp trademark and certain other assets of the former parent company, XP Innovations.
The new owner is AMain Hobbies, a Chico, CA-based online and brick & mortar retailer which, as the name implies, is heavily involved in the hobby market (RC cars, boats, copters and drones being among the top-line segments on their website).
The company is already involved in cycling, with a retail bike shop in Chico, near HQ. They also reportedly purchased the leftover BMX inventory of Western Power Sports (WPS), after that company's departure from the BMX market (reported by BMX News on May 28, 2019). The company will ship from two warehouses (California and North Carolina). All this to say that they appear well-equipped to enter the BMX market.
NEWS ALERT: It's important to us that the BMX community know what's going on–afterall, that's what BMX News is all about– so we will welcome AMain CEO and Co-founder Kendall Bennett to the Announcers Tower Podcast on Friday, and will have the episode posted ASAP after recording.
Here is the press release, as posted to social media:
>>>
We want to thank everyone who has been a loyal customer and visited our retail stores over the years. As many of you know we closed our Evansville store in January. Effective Friday October 4th, we have closed our store in Mount Vernon. If you are a online BMX Customer more information will be provided to you about any open pending order, credits you may have or gift certificates. Please look to our BMX social media page for more information to be posted there for those customers.
PRESS RELEASE October 8, 2019
Chico, California – AMain.com, Inc has acquired certain assets of XP Innovations LLC who has owned and operated Dan's Comp, The World's Largest BMX Store, since 2005. Notably, AMain has purchased the domain and trademarks of Danscomp.com. Preparations are underway to quickly onboard a number of key brands in the freestyle segment and bring back the Race Category before the 2020 season gets underway.
Making the decision during the summer to identify someone to carry on the legacy of Dan's Comp was a difficult decision for XP Innovations owners, who were also some of the longest tenured employees of Dan's. Although multiple parties expressed interest, they chose to leave the brand in the hands of AMain as it was important to them that the new owners were vested in the industry and had a passion for BMX. Over the last several years, AMain.com, the parent company of Performance Bike, Bike Nashbar and AMain Cycling, has proudly supported a national level BMX Race Team, local racers of Silver Dollar BMX, and were instrumental in the construction of Chico's public pump track.
"BMX is a sport our employees and their families have been participating in for a very long time. The Dan's Comp brand is respected and well known all over the world and we're excited to continue serving this segment of the industry." Said Kendall Bennett, AMain's CEO.
A revamped website will be up and running in the coming days and we are hard at work onboarding brands and processing existing freestyle inventory from Indiana to pair with race products from Supercross, Box, Tangent and others that were recently acquired from WPS, who announced their departure from BMX distribution just a few months ago. Once online, Dan's Comp customers can expect same day shipment for in stock orders placed before 3:00 PM, Rewards Points, Easy Returns, the widest assortment of BMX products on the market, and a trained customer service team to answer their questions. Orders will ship from two warehouses in California and North Carolina, reaching 90% of the US within 3 business days. Our warehouse and customer service teams are here 7 days a week fulfilling your orders and answering your questions.
All current customers of Dan's will be enrolled through 2020 as Platinum members in our VIP program to receive rush order processing, extended return windows and the highest level of rewards. Any customer reported to have an unfulfilled order as of October 5, 2019 will be issued store credit to be used on any of AMain's family of sites or in one of their retail locations.
AMain.com Inc is an omni channel retailer headquartered in Northern California. AMain Hobbies, a worldwide leader of performance grade radio control products since 2004, also owns and operates several properties for cycling enthusiasts including Performance Bicycle, Nashbar, and AMain Cycling. AMain runs two successful brick and mortar stores and a world class RC race facility in Chico. With the addition of Dan's Comp, AMain becomes one of the most diverse and exciting bike retailers in US and hopes that their success can elevate radio control and cycling by giving back to the communities who support them.
###
On a personal note, I would like to say thank you to Dusty, Steve, Bill, Rayn and all the Dan's Comp crew for their support, encouragement and friendship over the years. We wish them all the best in what's next for them, and hope our paths will cross again some time, whether in business or on a social level.
—Mike Carruth