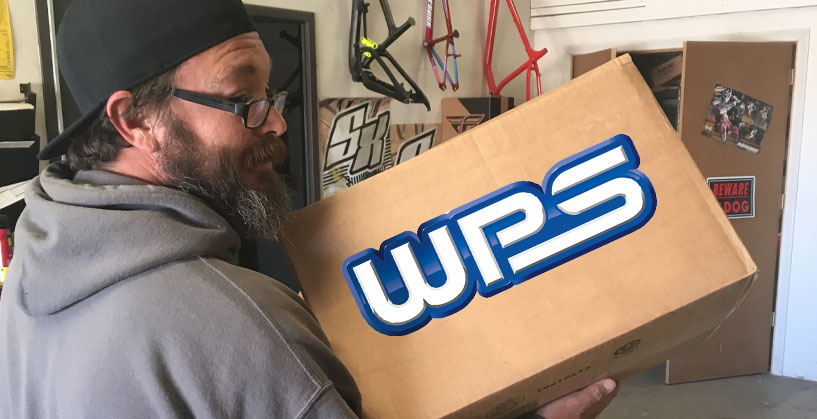 Western Power Sports, WPS for short, is an internationally-known distributor of apparel, parts and accessories for the motorcycle, BMX and Mountain Bike markets. They boast 10,000+ dealers worldwide, and their catalog is stuffed with over 100,000 products, big and small.
Consumers may know them best as the people behind Fly Racing, the wildly-popular racing gear seen on some of the top riders at the races. Bike shops have known them as the one-stop shop for sourcing the BMX and MTB industry's most popular brands (Tangent, Rennen, Supercross, and Yess BMX, to name just a few). In all, 23 brands have been available to dealers and trackside vendors via the WPS distribution channel.
Tuesday morning, an email was sent to those 23 brand partners, advising them that WPS would be exiting the BMX parts and accessory distribution business, with re-stock orders to be halted as of August 1.
It's important to note that the WPS distribution business is separate–at least as far as this announcement goes–from their Fly Racing operations, which will continue as-is (or better) going forward.
Here are some reactions from industry insiders on the news.
First, a WPS customer:
"I'm disappointed, but understand. It was very convenient to do most of my purchases thru WPS. I will have to go direct to the manufacturers now to obtain my parts."
—Paul Becker, Owner
The Fly Zone BMX
Trackside Vendor in Illinois, Wisconsin and Indiana
—-
Next, we hear from Bill Ryan, owner of Supercross BMX–one of the brands affected by today's news:
Western Power Sports has been a great partner of Supercross BMX and Speedline Parts for the last 15 + years. And while this is sad news, it is not shocking. I personally think that this is a NEW Day situation, not only for FLY, but for the entire BMX industry. We plan to continue working with FLY for our Supercross BMX race Team as a Marketing partner for many years to come, and welcome the former WPS BMX Parts Dealers as new Supercross BMX dealers to get Supercross BMX and Speedline Parts out to the BMX masses.
I am excited about the direction they are taking on this and can't wait to see some of the new Fly product that comes out of this new focus.
At the same time, I'm excited to have a more direct line of communication with all the Supercross BMX and Speedline parts dealers that WPS has been taking care of for the last 15+ years. Our B2B website is up and running for dealers, so they can place their orders 24/7 as they were used to. Hopefully this will allow them to expand the range of Supercross and Speedline parts that they carry in their stores, as now they will have access to the full range of our products.
—Bill Ryan, Owner
Supercross BMX
—-
Finally, we hear from Jeff DiVido, owner of JD Cycle Supply— one of the companies that is expected to benefit from WPS leaving the BMX hard goods space.
"Wow, shocking news!!! We will step up our inventory levels and will increase our staff as needed. JD Cycle has been growing very fast and we had our best year last year.
We will be looking and talking to other brands that we were not selling and WPS was. I will see what they offer and what we can do for them.
I have been selling BMX products since 1986 with my old company Custom Cycle and now JD Cycle Supply. I feel over time we will be able to fill the void from the absent WPS . Dealers looking to get set up with us can contact us thru our website www.jdcyclesupply.com"
Jeff DeVido, Owner
JD Cycle Supply
—-
This is a story that shouldn't directly impact the BMX consumer's day-to-day experience, buying at their preferred bike shop or trackside vendor. But we felt it was important to report the facts. There are some false narratives circulating on social media that say "Fly is closing its doors" or "WPS is going out of business." Both of those are patently untrue.
As Ray Hudson, Fly's long-time representative to the BMX industry underscored to BMX News today "This move allows us to focus all of our efforts on Fly."
WPS customers have been notified of the change in policy, but we wanted to make sure the all of our readers—industry, dealers and consumers—had the accurate story.
—Mike Carruth