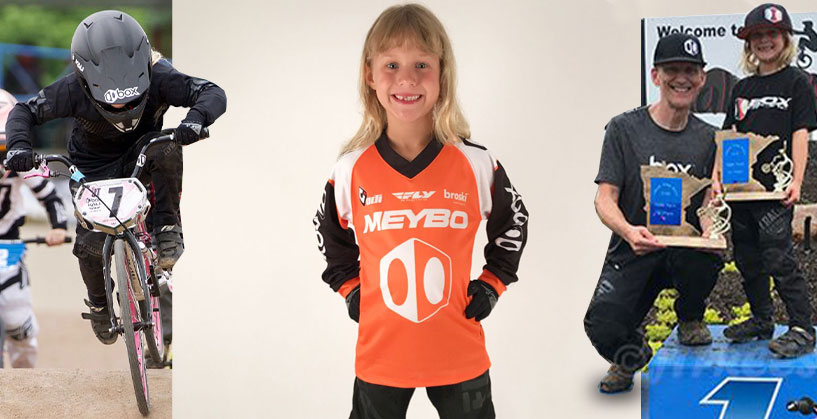 It's pretty rare that we run two stories related to the same brand, on the same day– but we're making an exception for hot team news on this hot July afternoon.
News has been watching the budding career of seven-year old Jemma Tollefson since she started racing. Her dad, Jeff, (pictured above) is a life-long BMXer, and is also one of the most knowledgeable BMX historians on planet Earth. So, when "Lil JT" started winning races, we were not surprised.
Today, Box Components is out with news that Jemma has been added as the fifth member (and first girl) on their Factory Team roster. Here's what they said, in a release:
Jemma, also known as, Lil' JT, grew up in Woodbury, Minnesota. She was born on May 15, 2012, and began her hobby in BMX in 2017. She began at an old school get together at their indoor track, Rum River BMX, and her father, Jeff thought that Jemma would like to ride her balance bike there. From this day, she wouldn't stop from going around the track and Jeff had to pull her off the track to get hydrated from all the fun. In May 2017, she entered her first balance bike race and to our surprise, she beat all the boys and actually won every balance bike race she entered including the Grand Nationals.
Her fifth race on a pedal bike was at the 2017 Grand Nationals for 5 and under novice. Out of the 40 kids who competed, she made it to the main event but was cut off on the first jump caused by a crashed.
The following year in June 2018, she broke her arm and was in a cast for six weeks. By August, she couldn't wait to get back on the track once her cast was removed and tied for first place at the North Central Gold Cup but in the main, she again crashed and missed getting a plate. Things turned around and she then won all her races ranking from 22nd to 3rd overall, competing for a very competitive Minnesota State series plate. With 9 months of racing some really fast Intermediate boys, she quickly became an Expert girl. Her first race as an Expert girl was in 2018 at the Grand Nationals. Battling out front on the first straightaway, she crashed, taking her out once again but she didn't give up.
This year instead of watching girls race the Nationals from her computer, she wanted to compete with them. Of the four Nationals, she got her eight wins and was #2 National girl and #1 National Age Group (NAG) for 7-year-olds. With being an hour away from any track, she values and dedicates her time to get the most out of riding. She believes in trying her best, having fun, traveling, meeting new people/friends, and understanding that winning isn't everything.
With all the racing struggles and triumphs. Jeff commented on the following, "BOX Components have survived all the crashes but most of all, there has been so many successes and accomplishments and this is all thanks to the durable and reliable products." Jemma is extremely excited to have BOX as a sponsor to help her reach her BMX goals and dreams.
Those are some pretty tall accomplishments, for a factory flyer of any age.
As you can see, Jemma already has the Box Components kit–complete with the new Meybo-branded jersey, as noted in our earlier report. We will be looking forward to seeing her, JT and mom, Carolyn, at the races this summer, and beyond!
—Mike
Links