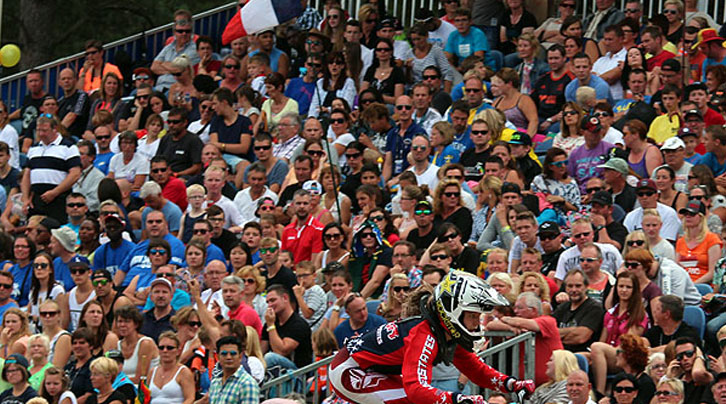 *Updated With Wednesday Results and Wednesday Medal Table*
Five days of World Championship racing starts Tuesday, in Zolder, Belgium. The 2019 UCI BMX Worlds Championships includes "Challenge" class racing (which, in the USA BMX system, would be "Amateur" racing), and "Championship" class racing (Junior and Elite Racing).
In the coming days, you'll hear the phrase "UCI BMX World Challenge" – that is UCI-speak for the Challenge portion of the Worlds program, as that is its official title (even though everyone calls the whole week the "World Championships"). Technically, only the Saturday racing, with the Juniors and Elites, is the "World Championship."
This article is intended to provide a "primer" to the week's events, to which you can come back, for the schedule and important links.
Here is the schedule of racing classes:
Tuesday: 8:45AM – All Cruisers
Wednesdays: 8:45AM – Male 5-11 Years and Female 5-13 Years.
Thursday: 8:45 – Male 12-16 and Female 14-Over
Friday: 8:30AM – Male 17-Over and Masters
Saturday: 5:00PM – Junior and Elite Men and Women
*All times are the START, Zolder Local Time. Zolder is +6 Hours from US EASTERN Time.
Watch BMX News throughout the week, for stories from the track, photos by Craig Dutton and Jerry Landrum, as well as day-to-day results.

---
Photos by Craig Dutton
---
Links
---
Motos
---
Results
---
Medal Count – Final After All Challenge Classes