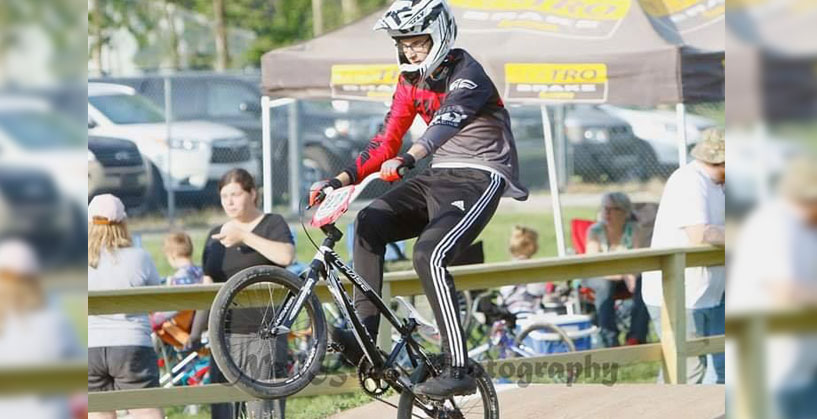 Day three of the 2019 USA BMX Midwest Nationals started late, due to some early rain, but everyone was happy when the skies brightened up, and racing got under way around 9AM. After the first gate dropped, people's thoughts were on the regular race day stuff: first round transfers, family and friends–and, on this particular race day, Father's Day.
Mid-way through the first round (Moto 95), four riders were racing down the first straightaway in the 15 intermediate class. Two riders tangled coming down the triple in the middle of the straightaway, and they crashed, with the lead rider impacting the face of the next obstacle with his upper body, according to reports from spectators.
The rider was Carson Stoffel of Huntington, Indiana. According to reports from the scene, Carson was unresponsive following the crash, and medics administered CPR. We regret to report that Carson did not survive the accident.
USA BMX issued the following statement to BMX News:
"USA BMX has confirmed that Carson Stoffel, 15, of Huntington, Indiana, passed away today after racing at the Midwest Nationals in Rockford, IL. We are deeply saddened by Carson's passing and our thoughts and prayers go out to his father, Jake Stoffel, his mother, Krista Rohrabaugh, his brother, Chandler, and his sister, Bryleigh. To Carson's family, we would like to extend our sincere condolences and assure the Stoffel family that USA BMX will do everything to assist and support them through this difficult time.
Carson's father, Jake, on his son: 'Carson absolutely loved riding his bike and being with his friends.'
USA BMX has worked with Rockford BMX for 33 consecutive years on the Midwest Nationals, and for more than 40 years have worked closely with our athletes and track operators year round to ensure the safest possible conditions for our competitors."
---
Carson's team, MoHawk BMX, posted the following on their team Facebook Page:
It's a sad day today that was to be a special day. Today we lost a fellow family member a fellow MoHawk. He was involved in a crash at the Rockford National and never recovered. Our hearts are truly broken and lost for words. Please pray for his family as the face this horrible nightmare. Fly high young MoHawk You are loved and will be truly missed.

---
Carson took second place on Friday and Saturday of the Midwest Nationals.
In the hours following the accident, social media has been busy with all kinds of rumors and so-called eyewitness accounts, a lot of which are untrue and heartlessly sensationalized. We encourage BMXers to respect the circumstances and the family, teammates and friends of this fine young man.
My family and I will be lifting the Stoffel family up in our prayers in the difficult days and weeks to come, and we hope you will do the same.
Information on services and a possible GoFundMe for the family are pending. BMX News will bring them to you as they become available.
—Mike
Editor's Note: The photo above is not from the race at which this incident occurred.