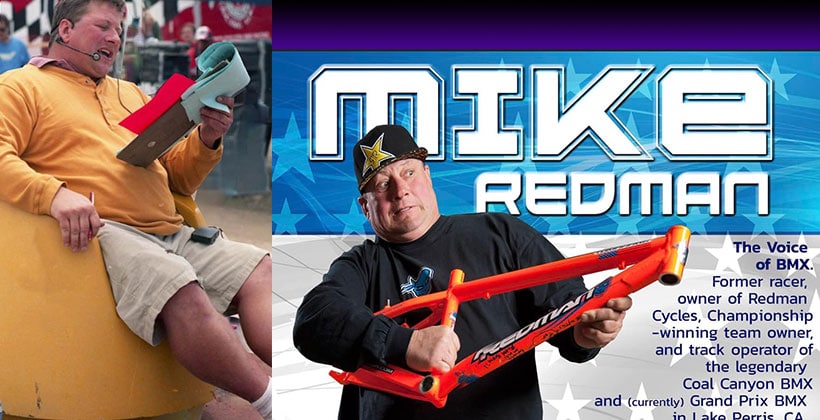 Mike Redman was a BMXer who was all-the-way-in on every aspect of BMX Racing, since the 70s.
He was a racer, a BMX start-up entrepreneur, at a young age, (with MRC, Mike Redman Concepts), a wildly-successful racing team leader, Bike Brand visionary (via Redman Bikes), Race Announcer at hundreds of national races (and thousands more on the sub-national-level), Track Operator at Grand Prix BMX in Lake Perris, CA, coach to thousands of local-level BMXers, who participated in his clinics, all-of-which made him a BMX industry Legend.
Mike passed away last week, reportedly after complications from a stroke he suffered earlier in the week.
He made an indelible impression on every-single-one-of-us he encountered.
He was, in the same instance, the "cool guy," who knew everyone, and everything, and laced that knowledge into his work; and, at the same time. also the person who would buck-you-up, when you were having a challenging day–and that goes for all-manner of BMXers, whether racers, parents, track officials, and, yes, even us-photographers.
It's a popular social-media-era thing to say "IYKYK" (If You Know, You Know), and there are so-many of us who DO know.
But for those who don't…You, too, have heard the voice of Mike Redman…A LOT, at EVERY race, in fact!
His is the voice that is on the starting gate cadence, at BMX tracks, worldwide.
BMX Tracks, around the world, will drop a single, empty, gate, in the next week or so, in tribute to our friend, coach, and the guy who understood us–whatever our station in the BMX Racing landscape.
Mike's long-time friend and team-running partner, Richard Huvard, currently of Daylight Cycles, posted a supremely-eloquent message on Facebook, on Mike's passing. We post it here, with permission, because it is so profound. From June 17, 2023.
It is with an incredibly heavy heart that I must share with all of you my friends that my dear friend, Mike Redman, passed away today due to complications from a stroke suffered earlier this week.

His immediate family and a few of his closest friends were able to be at his side these past few days, and his loving adult children, Austin and Tallon, were with him as he passed peacefully.

Of course, so many of you know well or have at least heard of his immeasurable love for and contributions to BMX—an absolute legend who was arguably the greatest announcer in our sport to multi-championship winning factory team owner, independent frame builder of Redman Bikes to track operator of Mike Redman's Grand Prix BMX where on any given Sunday the world's top elite racers could be found.

As a trainer, they also came to Redman—not because his was the closest track or even the best track but because Mike understood what made a great BMX racer and he knew how to share that magic with each individual rider, from the most novice of riders to the most esteemed Olympic gold medalists. They all sought out his wisdom and knowledge but most importantly they sought out his friendship.

That was the real magic of Mike Redman — his ability to give his love to everyone — EVERYONE — and everyone — EVERYONE — loved him in return.

In closing and on a deeply personal note, Mike was truly my best friend. He taught me everything I know today about the sport and accepted me into an orbit that only the most rarefied in the sport of BMX could circle.

Daylight Cycles would not ever have existed if not for Mike's gift of friendship to me.

It's impossible for me to think of a day going by without picking up the phone to hear his voice — that incredible voice that we can at least still hear on every starter's box on every BMX gate around the world.

I take solace in knowing that he's still circling all around me and my family and forever will be. Andrea, Judson, Hannah, Abbie, Levi and myself love you Mike.

Godspeed my brother.

—Richard Huvard
We'll never forget you, Redbone!
—Mike Carruth
Photos pinched from Shannon Gillette and USA BMX. Thanks guys!
Edit: Mike was active in BMX, since the 70s. Thanks to Robert Taylor, on Facebook, for the correction.