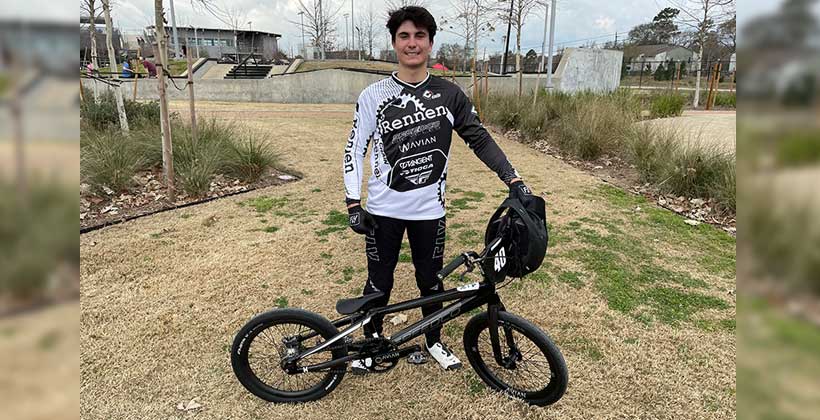 It's been a minute since we have brought you Factory Rennen news. At the end of the 2018 season Brand chief, George Costa, decided to put more work in to developing new products and keeping the wheels of industry turning at HQ, versus the wheels on the team trailer.
So here it is, 2022 and Rennen is bringing back its factory team… well sort of.
Brandon Crain, who was part of the Rennen program since he was on skinny tires will be representing the brand again, as the solo factory rider for 2022.
He is mounting a serious campaign for the big cup (his second…he won it once already, in 2017), and will have full support to make it happen.
Keep an eye out for him in Houston this weekend, where he debuts the new Rennen jersey, along with a roster of cosponsors that is a who's-who of fine brands.
George told News:
I'm excited to see how the year goes for Brandon, together we were able to give him the opportunity to win the amateur title in 2017 when I ran the Answer/Rennen team. I discovered and recruited him at the age of 9 and have become good friends with him and his family ever since. When I learned he was going to depart from his former team for 2022 I wanted to offer up this opportunity and see if we can make it happen again. Everyone knows Brandon has the talent and with a fresh start and perspective I'm hoping it ignites the fire I have seen from him in the past.
Brandon was free to choose all of the co-sponsors below, he told me the brands he wanted to use and I contacted those brands on his behalf but I am having him work directly with all the brands and "manage" himself.
I felt this would be good experience for him to establish relationships for an inevitable Pro debut sometime in the future. A lot of riders I have come across over the years need to learn how to manage themselves and their sponsor needs and expectations.
Brandon Crain 2022 Sponsors
Rennen
Speedco
Avian
Tangent
Fly
Tioga
ODI
Congrats to Brandon, George and all the brands involved in keeping this show on the road.
—Mike
---
Links