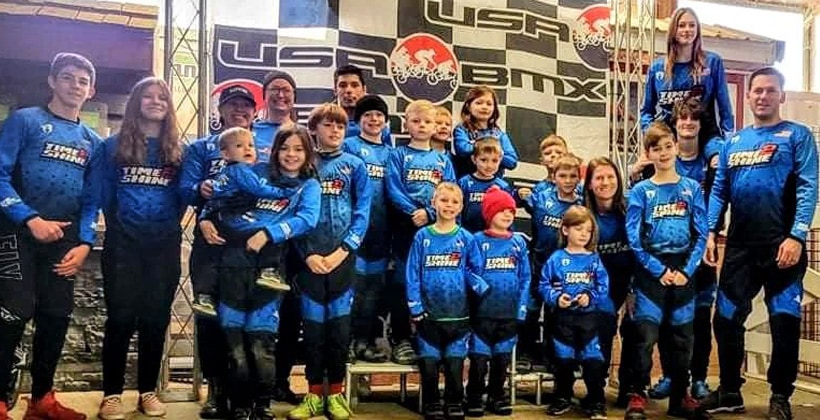 Time2Shine National Bike Shop Team is looking to be a steady presence on the podium in 2022.
At the 2022 Blue Ridge Nationals in Lexington, VA, 11 of 21 riders earned podium spots, highlighted by Valentino Vallejo, who swept all three days in 14X, along with wins in 13-14 Open on Friday and Saturday.
Federico Cappello 16X (World 6) came away scored two wins and a second in class after a hard crash in the cruiser semi on Friday.
Being over 5,000 miles from their homes in Argentina didn't prevent them from putting their talents on full display among the Americanos.
The younger Time2Shine boys demonstrated the excitement that lies ahead for the team.
Spencer Allen and Sterling Murphy both had podium performances during the weekend.
The current World 1 on Stacyc and NAG 18, James Sherill, took the top spot in the crowded 5 & Under Novice class on Saturday, ahead of 32 other riders; securing his promotion to Intermediate.
The ladies of Time2Shine had an impressive weekend in both cruiser and class.
Podium performances were logged by Morgan Barnhart (16N x3), Lotus Stotler (14xg Saturday), Amanda Warner (31-35 Women Cruiser x3), Tara Murphy (36-40 Women Cruiser, Friday) and Sarah Cugler (41-45 Women Cruiser, Sat & Sun).
Overall, the team finished 2nd, 3rd and 4th, respectively, in the team sheet competitions for the weekend. Congratulations and thanks to all the riders for their performances and their supporters for the energy they brought all weekend!
Here are some of the team's photos from the trip:

Editor's Note: Thanks to Team Manager Von Smith for the report!
---
Links
All Results for 2022 USA BMX Blue Ridge Nationals