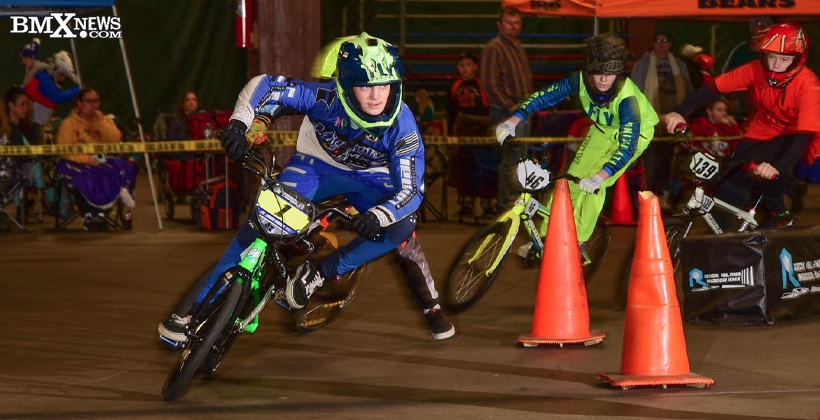 Racing BMX indoors on concrete was how those of us who lived above the frost line used to roll in the winter, during the early days of BMX.
Wooden jumps were built to simulate those of the outdoor variety (mostly tabletops, but not all), and there was even some flirtation with wooden turns.
In the "modern era," we now have a few indoor on dirt tracks dotting the fruited plain, but they are spread pretty far apart in Minnesota, Indiana and Ohio.
For the past 11 years, during the month of December, East Moline (IL) track operator Paul DePauw rents out the QCCA Expo Center for the whole month, plus a couple days into January sometimes.
At a time on the calendar when the only BMX Racing is three hours away (at Steel Wheels in Hobart, IN), Paul brings aforementioned old school form of BMX back to the Quad Cities with multiple practice/open ride nights, single points racing, a four-session BMX League for Beginners, and caps it all off with a Triple points Illinois State Qualifier on New Years Day.
For 2022, the calendar fell just-right, and there was also a DK Gold Cup Qualifier on Sunday January 2– the first qualifier of the 2022 series.
News made the trip for the Sunday race, and came back with a great photo set, which we hope will give you the mix-of-eras flav that made it an epic weekend for all involved.
Check out the photo gallery now.
Links
2022 Rock Island Indoor GCQ Photoset
In January/February, Paul will cross the mighty Mississippi and bring indoor-on-concrete BMX Racing to Davenport, IA, which is just a chainring's throw from the Rock Island Location.
The Mississippi Valley BMX Raceway will be operational later in the month, and we'll have more info on the practice and race days, as they become available.
—Mike Carruth
---
Here is the race report that Paul posted for Sunday's race>>>
Rock Island Indoor BMX Gold Cup Triple Race Review – 1/2/22
I have to say the riders today left it all on the track – We witnessed incredible victories and the agony of defeat! A ton of burning rubber got put down in the turns – The action was off the charts!
I'll do the best I can with some highlights
190 Riders – 38 in Open and 4 Balance Bikes for 232 Total Riders
51 Motos
Nine States Represented again today – IL – IA – IN – MO – MN – WI – NE – KS – OH
Move Ups
Aamir "The Anomaly" Armstrong – 5 Expert
Nolan "Lloyd Christmas" Jared – 12 Intermediate
Excellent Job!
We had so many "David Copperfield" moments where we create an illusion that things are going great when secretly – They might not be! Our volunteers continually floor me with the things they do to keep the race on track – Thank You volunteers – These races are only possible because of you!
The impression and feel I picked up from this race was that riders were really having fun – Which is really what I want to see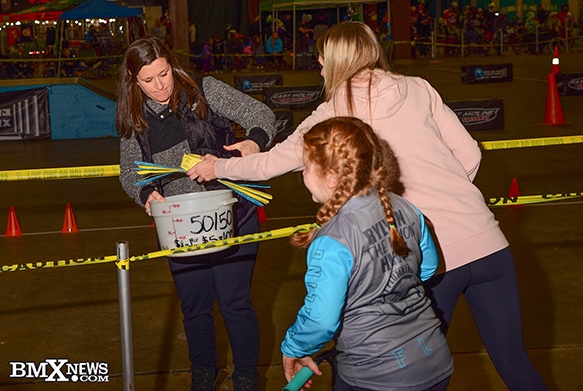 50/50 – $723 Split with the winner, who tipped the track after the fact! Thanks!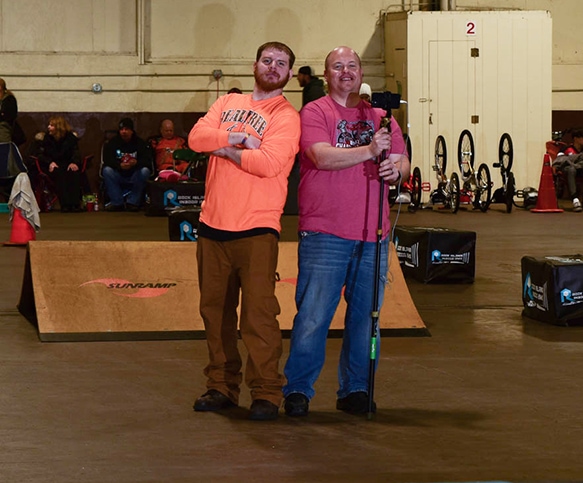 Live Feed = Total Success! Jeff Swan (above, on the right) – Is the man behind the camera! He's got fans all over the world now! Thanks!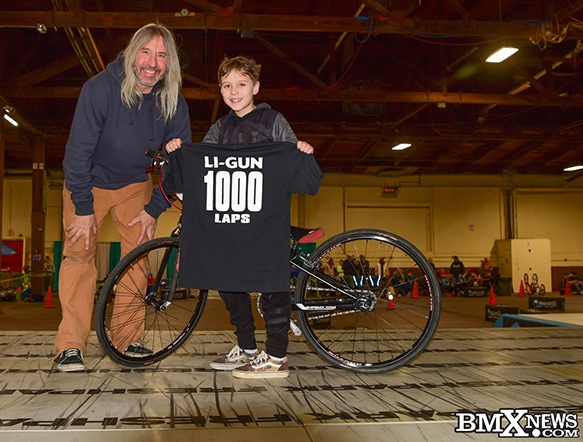 Liam "Li – Gun" May picked up his 1000 lap East Moline track shirt for his hard work on the track this summer! Nice Job!
Nick Balzer with Squatch Photography was in the house taking pictures along with Mike Carruth so we have really good pictures coming soon that will be posted up – Thank You
The Main Events today were sponsored by The Sneaker Vault located in Moline, IL – These guys have the Vans shoes you are looking for and we will be working with them a lot in the future – This deal was put together in a matter of minutes which is pretty much how it goes around here – It was really cool having a Main Event Sponsor!
17 to 20X was the Main to watch today and I will post a separate video up of that action packed race!
Danger Boy Deacon Reaves threw a huge party for his 4th birthday today and then went out and won his 5 and Under Novice Class against 11 riders today! Happy Birthday!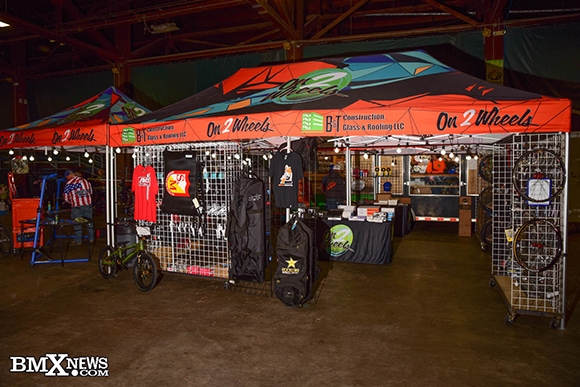 On 2 Wheels out of Kansas brought in their big rig to vend and also donated to our 50/50 today with some very nice prizes – Thank You!
Once again the QCCA Expo staff knocked it out of the park with concessions and just an awesome facility for us to use – Thank You for everything you have done for us!
The load out went good and we hauled it all over the bridge into Iowa – We have 3 weeks of racing coming up at the Mississippi Valley Fairgrounds late January and early February – More details on this soon
We witnessed some of the greatest BMX racing you could possibly imagine today – Everything is different when you are flat tracking at full speed!
Thanks to all that showed up and raced or helped in any way – I believe these racing memories are going to stick with you for a long time to come
Thanks Again!