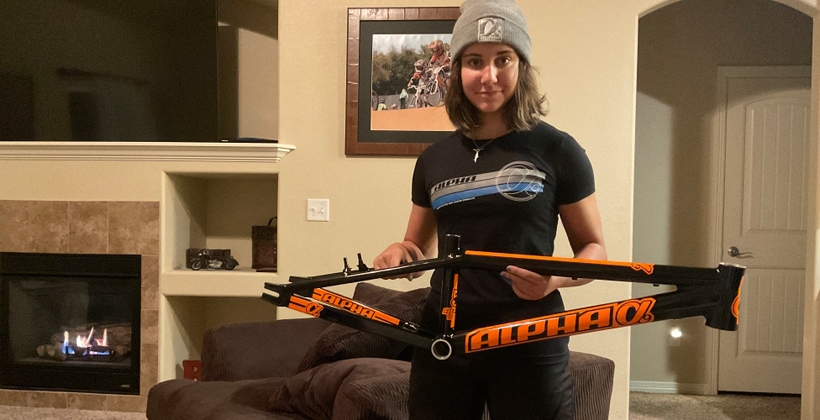 With Grands 2021 in the rearview, we shift attention to Team Changes leading into the 2022 season—a mere 36 days from now.
Someone who combines the two (Grands and Team Changes) is Colorado's Zoe the "Z" Dannenberg. Zoe had a great trip to Tulsa Town, acing every lap she started (including 16ths in open, and a ROC 1).
That profound performance got her a number plate upgrade from NAG 2 to NAG 1 in 12 Girls. It's not exactly uncharted waters for her; she had NAG 1 in 2017 and 2019 as well.
It also got her hitched-up with a new ride from Shane Threatt at Alpha Bicycle Products. Alpha had a pretty great Grands as well, celebrating a Vet Pro title for Jonathan "The Mosquito" Suarez and lots of lead rider calls and high hardware to go with the Friday night high-fives.
Still on the road back to Nor Cal, Shane told News
Zoe, and the Dannenberg family, have been friends of Alpha for a few years now. We've seen Zoe develop into quite a talented rider, with a very bright future in BMX!
Her hard work, both on and off the track, are shining examples of what it means to be an Alpha. We're very excited to have her join our Factory Team for the 2022 season, and cannot wait to see what heights she can reach!
Shane made sure she had her new frame, with all the trimmings (note the hat and tee in the photo above), to get her going on the good-foot.
On her switch, Zoe told us:
I Couldn't be more excited for the new year to start for which I will be joining the Factory Alpha team. I am super stoked and very thankful for all my sponsors @flyracing @danscomp @answer @onyxracing @tangentproducts @Bbqislandinc @resslermotors @chevrolet @grangerprintssolutions @aplhabicycleproducts.
And very thankful to Shane and Rebekah Threatt, for inviting me to be a part of the Alpha family!
Thanks,
—The "Z"
We'll be in Vegas for the Silver Dollar Nationals, and will bring you first photos of Zoe rockin' her new kit and skinny digit. Start the clock!
A big BMX News CONGRATS to both Alpha and The "Z" for getting together for '22.
—Mike Carruth
---
Links
Alpha Bicycle Products Website
---
This Article is presented by Time2Shine BMX