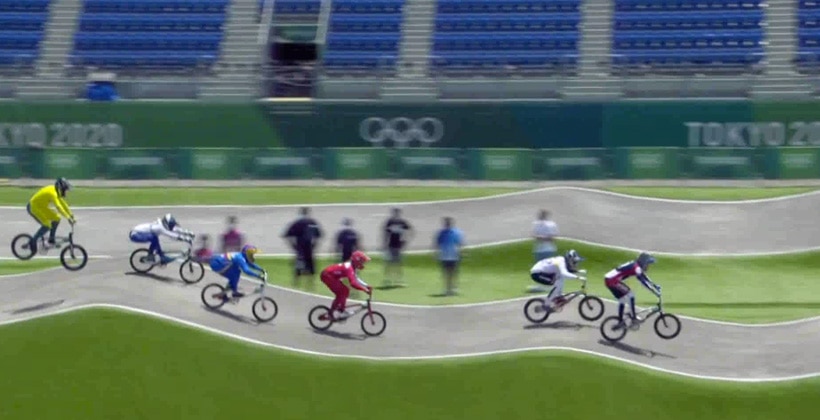 Day one of the BMX Race events at Tokyo 2020 kicked off on Thursday at Ariake Urban Sports Park for the fourth Olympiad featuring BMX Racing. But, unlike previous Olympics, there have been some distinct changes to the format and track. Let's take a look at the "Why?' behind these changes and how they impacted Tokyo's first round of racing action.
The UCI and IOC have made gender equity a priority, and that means equal numbers of participants – 24 men/24 women in Tokyo, compared to 32 men/16 women at previous Olympics. That equity also extends to the track – noticeably missing was the 2nd straight men's/women's split section and the typical third straight of equidistant rollers. Still intact was the 3rd straight split, but made up of a variety of obstacles.
And instead of the usual SX track design of double jumps with deep gaps on the first 2 straights, the possibility of manualing (rolling over) most obstacles was put into play – this might have been born out of a men's quarterfinal in Rio 2016 when the whole pack had to pull the brakes and roll the berm jump because of a headwind – an embarrassment for the UCI that will not be repeated in Tokyo.
BMX Racing is one of the few Olympic sports to have a different "field of play" for men and women, and the UCI and IOC appear to be targeting true equity at the Paris 2024 games, potentially with a course designed identical for the men and women. In addition to gender equity, the overall goal of the UCI design team, working with course builder Pro Tracks, can be summarized as follows: try to minimize crashes, offer more passing opportunities, and create more close racing in general.
One final twist that threw off a lot of training regimens was the lengthening of the course from 400 meters at Rio to 495 meters at Tokyo. The gold medal lap times in Rio 2016 were 34.64 (Connor Fields) and 34.09 (Mariana Pajon) – this course produced lap times in the 40's. And unlike all previous Olympic courses that were built with a gradual descent to the finish line, Tokyo was not.
"This track demands a lot of energy since it is flat from start to finish," according to Pro Track's Thomas Hamon. "The track has been designed to give the athletes a chance to make a comeback if you are not first into turn one. You can still win because the last part of the track is really technical."
Based on Day one's quarterfinal action, I think the UCI vision for the elites is on the right track. Crashes were infrequent, and there were a lot of moves on the third and fourth straight. Most competitors were riding tactically and well within their limits, so we will get a better look on Day two at how the riders can attack this course. Overall, the racing was compelling, and now we move on to the sharp end of the stick with the semi finals and medal final.
And what about the big drama leading up to Day 1 – Twan Van Gendt's 2-speed gearing? He did show up on the gate with it, and proceeded to put in some solid laps, but not the fastest. Niek Kimmann and Joris Daudet actually dipped into the upper 39's, but Twan wasn't too far off. On Day two, we will see the cloak completely lifted and whatever capability the two-speed gearing has will be on full display in the semi-finals.
Day two's three-lap semi final and final action will begin at 9 PM EDT on Thursday, July 29. For a live stream, go to NBCOlympics.com, or get the NBC Sports app. For timing and scoring, check out Olympics.com.
---
Links
Tokyo 2020 – BMX Racing Results
This Article is presented by Time2Shine BMX