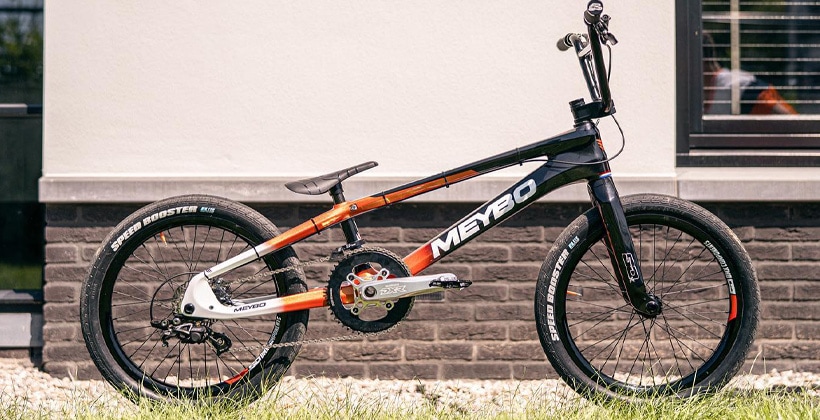 Dutch Olympic cyclist Twan van Gendt has thrown a wrench into the upcoming Olympic BMX Race competition with the recent social media reveal of his unique bike for the upcoming Tokyo Games. Unique, in that Twan's bike is shifter-equipped with multiple gears, a first for BMX racing at the Olympics.
A little known rule in the UCI (international governing body for cycling) rule book states that "multiple speed gear systems are permitted" for BMX competition. Over the 50-year history of the sport, numerous attempts have been made to introduce multi-gear systems, specifically two gears. I made my own attempt in 2018, approaching German component builder Kappstein to build an internal/bottom bracket 2-speed for Team USA, but it turned out to be cost prohibitive.
So now it looks like Twan might have cracked the code, with the help of sponsors backing and supporting his effort. Shimano focused on adapting their drive train to his new Meybo carbon frame, and Red Bull stepped up and built a private Tokyo-replica first straight. Then extensive testing was done, with absolute secrecy, as the gearing system was fine-tuned to maximize Twan's holeshot time in the all-important race to the first turn (where many races are won or lost).
But could Twan simply be playing an illusory mind game with his competitors, trying to gain that mental edge that is so critical at the elite level in BMX racing? Could his social media bombshell be a sly way to put his competitors on temporary tilt, wondering how they can compete with this new technology? It could be a ruse, but it's unlikely that he would show up on the gate at Tokyo with a traditional one-speed and say "fooled you!"

Close-up of Twan van Gendt's Shimano Multi-Speed Olympic BMX Race Bike Set Up
How Would it Work on the Track?
Far better to use a derailleur, start in 1st gear and put in a jaw-dropping holeshot time in his first quarter final lap – then the mind game will be complete and his 2-speed gearing will be feared every lap thereafter all the way to the medal final.
The multi-speed gearing possibility at the Olympics has sent shockwaves through the traditional BMX race community. The sport has always been about a single gear, as riders sprint for 30-45 seconds over a 300-400 meter track, so a change of course to multiple gears has caused concern among many on social media. Some have even cried foul that a multi-gear system would be used. But Twan is well within the UCI rule, which has sat dormant since BMX racing debuted in 2008 in Beijing. Like many a crafty sportsman before him, he has studied the rules and then marshaled his sponsors to help create a competitive advantage – something any of his competitors were also welcome to attempt.
Tokyo BMX Supercross Track Different Than Others
It is quite possible this technological effort is a one-off, an "all or nothing" attempt to secure the top prize in all of BMX racing – Olympic Gold. This year's course, built by Thomas Hamon and Pro Tracks, has made some changes that set it apart from a typical Olympic course and could favor a multi gear drive train. For the first time, the UCI and the IOC are instituting gender equality in Olympic BMX racing, with equal numbers of men and women competitors. That means a track designed for equality as well, with obstacles that can be jumped, or rolled, depending on your preference.
Typically, Olympic BMX courses feature separate sections for the women and they share only 50% of the same course as the men. That has been increased to 75% this year and potentially 100% in Paris 2024. Instead of jumps that penalize you for not landing perfectly, the Tokyo course is designed to give racers the option to roll, or absorb, most jumps if they determine it is faster for them to do so, allowing the women to tackle the same obstacles as the men. Finally, the course length has been increased to add 20-25% to a typical Olympic lap time.
All these course changes mean more pedaling will be required, and specifically more pedaling down the first straight. If Twan runs a typical 44×16 gear ratio, and opts for the 1st gear to be 44×17, he could potentially have a huge acceleration advantage out of the starting gate, down the hill, and down the first straight, then he could shift into his typical 44×16 gear in turn one for the rest of the race. Just speculating on the gear ratios, as Twan has not confirmed what they are.

Actuation Lever on Twan van Gendt's Shimano Multi-Speed Tokyo BMX Race Bike (Gear Change is Right Side of Photo).
Van Gendt's "All-In" Bet For Olympic Gold
Could the drive train "blow up" under the torque of a start or shift change in Olympic competition? Anything is possible. But let's say you had the potential to capture that elusive 1% advantage over your Olympic competitors, the 1% you need to secure a gold medal. And what if the odds were 90% that the system would blow up, and 10% that it would hold up and guarantee you a gold medal – would you take those odds? What if it was 50-50? What chance would you be willing to take to win gold? Twan has calculated his odds, and it appears he is going all-in with this unique BMX racing drivetrain. We will soon see if it's a gamble that pays off for him, his sponsors, and the sport.
—Matthew Raymer