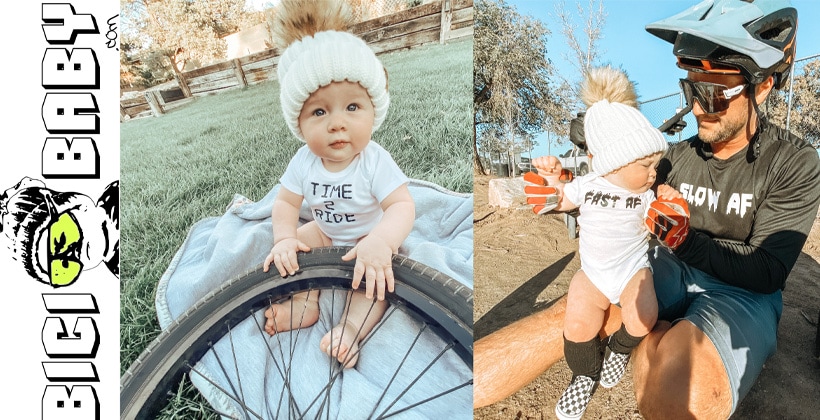 One of the things we love seeing, apart from seeing riders taking care of business ON the track, is riders taking care of business OFF the track.
We often talk about the life skills that BMX Racing imparts to every single rider who gets involved in the sport, whether beginner or pro. Goal-setting, finishing what you start, focusing on goals, competition strategy and so many others are all part of both BMX life, and life, in general.
And as pre-teens turn into teens; and teens into adults we are constantly-impressed to see BMXers begin to apply the skills they learned on the BMX track to school, non-BMX sports, their career and starting their own business.
Factory Supercross star, Kalvin Davis and his wife, Tracy, have stepped into the entrepreneurial realm with BiciBaby (pronounced "bee-see-baby"), a clothing line for newborns, toddlers and their parents to boom-out the message of the two-wheel-centric family.
Founded in September of 2020 (yes, in the heart of the pandemic), BiciBaby is already well underway, and shipping-out orders far-and-wide to families who want to bring their little-one into the family fun of riding BMX, MTB, Moto and and other two-wheeled pursuits who want the babies to represent, right along Mom & Dad (who also have plenty of pairing-options in the line).
Kalvin told News…
When our daughter was born, of course I wanted to dress her up in some sweet BMX clothes. Well, I could not find any bike related baby clothes that were rad enough for her. I wanted some bad ass baby clothes.
So after complaining to my wife multiple times, she told me, "Why don't we make some then?" That is how BiciBaby was born.
Sure, there are tons of cute baby clothes out there, but these are made especially for the future pros. BiciBaby makes bad ass baby clothes with 100% BMX, MTB and MOTO inspired designs. 
Tracy followed up by saying:
Kalvin isn't scared to admit it, but he loves matching outfits. So, besides baby clothes we just had to make clothes for the whole family too. Our best sellers are available in matching baby/toddler/kid and adult sizes.
Plus, we offer some hilarious complimenting options too, like my personal favorite, the FAST AF baby onesie matched with the SLOW AF dad gear. 
Some awesome comments by Kalvin and Tracy.
We could show more of their awesome line, but you really need to go to their site, at the link below, to see the full line. Kalvin and Tracy have created a great line of products, and we hope those of you with youngins, or looking for a gift for friends give them some love on the "checkout" page.
---
Links