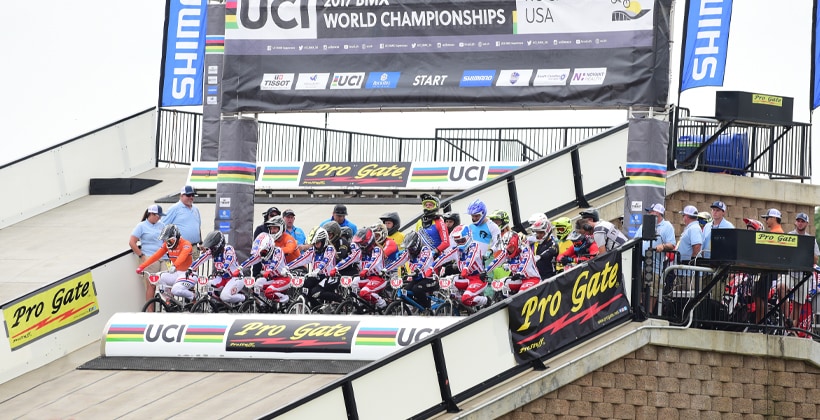 The first two rounds of the 2021 UCI BMX Supercross World Cup were originally scheduled for Stuttgart, Germany on May 8 and 9, but were recently canceled due to COVID restrictions in that country.
UCI announced today that the May rounds have been officially moved to Verona, Italy, and will take place on the same date as originally scheduled.
These first two rounds are particularly important for the Olympic-going BMX community, as they are the final two opportunities for nations to earn qualifying points for the Tokyo Olympics.
Pro Gate has been the long-standing "official starting gate" for all UCI events (Supercross World Cup, World Championship, and otherwise) for the past 15 years, and will be through 2024, thanks to a 2020 agreement that extended the partnership throughout the Paris games.
The ProGate Guy, Pierce Barker, told News:
Jan Schippers (The Euro ProGate Guy) and I fully support the riders and UCI to make sure this critical race happens as planned.
We have invested heavily in our partnership with UCI since 2006 and expect that to continue for the long term. Our commitment goes way beyond our significant financial investment. We are in it to support the sport and we will do what's needed to make this next Supercross round in Verona a success for both the Riders and UCI.
There has been a great spirit of cooperation among the International BMX community since COVID changed all our plans last year. We are happy to be part of that.
Beyond Verona, the World Cup tour will stop in Bogota, Colombia on May 29 and 30, then a break in the schedule for the Tokyo Games. BMX Racing is scheduled for July 29 and 30, 2021 at the Ariake Urban Sports Park.
The 2021 tour will finish up in Sakarya, Turkey with two consecutive weekends of racing on October 23, 24 and 30 and 31. Only the Verona rounds will bestow Olympic qualifying points.
We are encouraged by all the positive signs, of cooperation, of re-opening, and of getting back to what we all love to do—Race BMX (and report on it)!