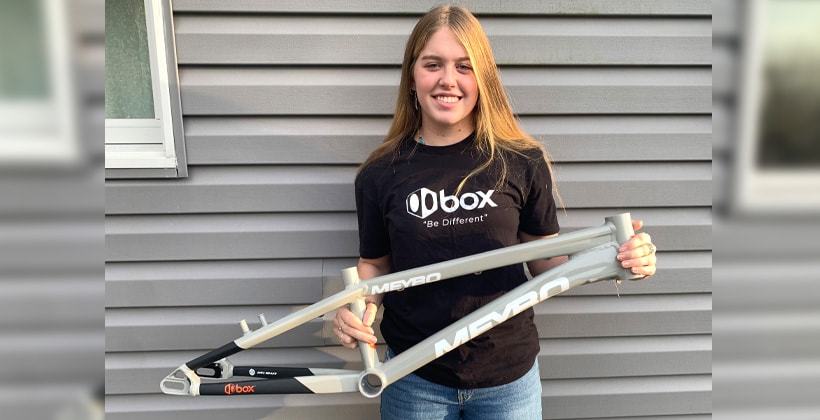 We are almost to the skinny digit of days til the 2020 USA BMX Grand National. As the countdown counts down, we are getting some tasty news items, which we will bring daily, or more than daily, as they come in.
Box Components is the first-such factory squad to send signals of staffing-up. The team is officially called the "Hex Lab Factory Team," so prepare your inner-ears for hearing that a lot.
Here's what they told us in a release:
Today, we're proud to announce Piper Piper Yockelson's graduation from the "Box One Rider" level to the Hex Lab Factory Team. Despite the challenges of COVID this year, her determination paid off in spades as she collected countless podiums. Please join us in celebrating Piper's Level up!
Piper comes from a family of racing. She got her start when she was only 6 years old, alongside her older brother, Jonas. Her younger sister, Ava, followed not long after. Success came quickly, culminating in a win at her home track (Chesapeake BMX) when she took her first National.
Piper had a large contingent of family and friends there that day to underscore the occasion. She tells us that she sources her inspiration from her parents as they have never wavered in their support for her. She identified Felicia Stancil as her role model and was galvanized by her journey to Elite Women racing.
Ambitions for 2021 include receiving an invitation to the NAG 5 Challenge and to race at several of the Junior Elite events. We've heard rumors that she listens to rock n' roll to pre-race and indulges in steak dinners afterward.
Outside the competitive world of BMX Racing, Piper is energized by travel and meeting new people. And to round it all off, she excels at basketball and swimming.
We asked her what prompted her to join the Box Level Up Program in the first place. She told us, candidly, that it was important to her to race for a well-known brand. One that would not only support her professional goals but also propel her to achieve her personal ones too.
What is the Box Level Up Program, you may ask? The Level Up Program was designed to support riders of all levels in becoming part of a team. Its goal is to strengthen skills, provoke inter-rider encouragement, and motivate a Level Up to the next class.
Good stuff, indeed. Congrats to Box for the quality pickup, and to Piper for joining a team that has known how to do "pro" since day one.
*Editor's Note: We misspelled Piper's last name in the original edit. We apologize for that error. Unfortunately, we cannot change it in the link name.
---
Links