In a year that saw the cancelation of the USA BMX Pro Series— a generations-long tradition in BMX Racing, the sanction is out today with its 2021 plans for a reimagined pro series.
In our November 12 article on the 2021 National Series schedule, we noted the there were no Pro Series races starred on the schedule, and pondered whether there would be no series, or if the info for such a series was just not ready yet. Well, today, we got our answer.
There WILL be a pro series in 2021, with a new structure to the classes, more prize money and other enhancements.
A-Pro and AA Pro are gone! The three classes that will be running in 2021 are Pro Men, Pro Women and Vet Pro (USA BMX is calling it Men Pro, Women Pro), but we don't like the way that sounds, so we'll be referring to it as "Pro Men, Pro Women," here on News.
A-Pro will be missed as the "rookie" pro class, but there is a struggle to make two classes work from a rider count point of view in this post-COVID, post-Olympics, post-shutdown-apocalypse period… so combining them seems to make the most sense.
As for Double-A… For the past several years, we only saw it at the Grands, due to UCI rules, where the top classes are "Elite." Thankfully, with Olympic Points no longer a factor (more on that later), we can get back to strictly "USA BMX Pro" racing, which would have meant a return to AA Pro. Part of the restructuring bring the A and AA pro racing under one class in "Pro Men."
Mo Money, No Problems. USA BMX has stepped up with a bankers box full of cash for 2021, with $500,000 estimated to be available for the taking. That may-just get some people on a plane to go race for it.
The rider-count based payout schedule is back, which should make the riders happier than things were under the Euro-minded "Equal Pay" scale for men and women, dictated by UCI; regardless of how-many or how-few riders there were. That was definitely one of the axe-swings that took the legs out from under the class, recently.
Taking the "B" Train. Pro Men and Pro Women (which we will hereafter refer to as the "top classes" in this story) will now have a "B Main" for the riders who get dropped in the semis. It will be the $2,050 B Main Shootout for each class.
Revised Age Requirement. In recent years, the age requirement to turn pro was 19 years of age. You could race UCI Junior at 17-18. For 2021, the age to turn pro has been rolled back to 17 years of age. This may do the trick to restock the pond with new pros, and repopulate the species after what George Costa called an "extinction event" a few years back.
Friday/Saturday Stays, Sundays gets Stripes. The pro/Elite classes have been running on Friday and Saturdays for the past few years, and that will continue in 2021. HOWEVER, the Pro Series Sunday will no longer be a jack-o-lantern-grin of pro racing.
USA BMX will place UCI racing on the Sunday of key pro series weekends, as opposed to Pro Series races running with UCI designation. We like that quite a bit, because one thing missing from the program lately was the "identity" of USA BMX Pro…it was all sort-of blobbed-over by UCI stripes and certain-way socks.
Prize money for those Sunday UCI races will be based on the UCI published scale (which is to say, not very much for the category of race we're talking about…but still, an improvement, over the old way, IMHO).
Pro Open Lives On. Pro Open is a class where any pro class rider, be them A-Pro, AA Pro/Elite Men, Elite Women or Vet Pro could race in a common class. COVID brought about the creation of a Women's Pro Open if there were four or more riders.
For 2021, all nationals that are not designated Pro Series Events (listed below) will offer Pro Open and Women Pro Open racing all three days.
Year End Prize Money. The USA BMX release on the topic said "The 2021 USA BMX Pro Series will award $42,000 in year-end prize money with $21,000 up for grabs for the top 5 in both the Pro and Women Pro classes." As recently as 2018, the Vet Pro champ got $1000…I don't have 2019 at hand, but it sounds like that may be gone-ski in 2021.
2021 USA BMX Pro Series Schedule
Winter Nationals – January 8-10
Circle City Nationals – February 26-28
Carolina Nationals* – March 26-28
Dixieland Nationals – April 30 – May 2
Music City Nationals – May 28-30
Midwest Nationals – June 16-20
Stars & Stripes Nationals – July 2-4
Great Salt Lake Nationals – July 30 – August 1
Derby City Nationals – September 3-5
Lone Star Nationals – October 22-24
ROC/Grand National – November 26-28
*USA Cycling Elite National Championships Sunday
2021 USA BMX Pro Payout Schedule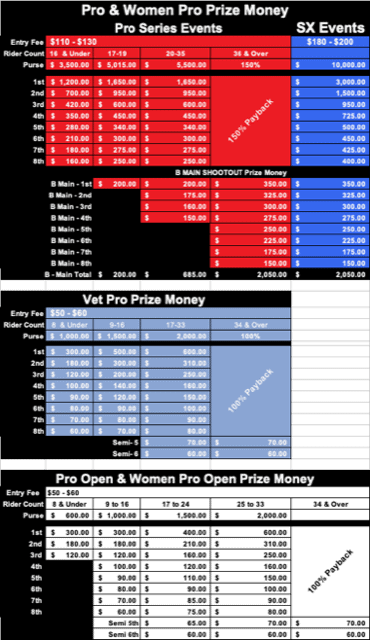 There are a fair amount of "whatabouts" still open on the new format, and other details. News has been in contact with USA BMX on those, and will issue a future report as a follow-up to this one. The takeaway is that we should feel pretty good about the fact that there will be a Pro Series in 2021…it is not going to be 100% payback all the way, and some races will see UCI action, but the bulk will be USA BMX Pro. That's a pretty good day!
—Mike Carruth