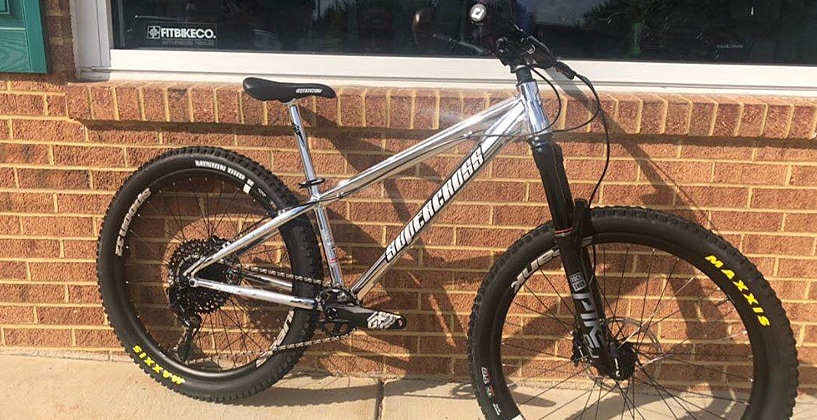 "Big BMX" is a big thing these days, as BMXers of every-era return to the track with their families; or see the telltale signs of dirt jumping taking place off some freeway overpass while sitting in traffic one day.
It only takes one outing on the old school ride that has been hanging in the rafters for 15 or 20 years to ignite the two-wheeled passion all over again, and send you directly to the "add to cart" button ("just to see how much shipping would be," right?)
By the way, it's "big" BMX, because you'll find those most-prime rides in 26 and even 29-inch wheel sizes. Perfect for the grown-up who still wants some giddy-up.
With a freshly-found desire to get out there and rip it up, PLUS no need to go to mom & dad for the cash to build it EXACTLY how you want to–it's time to get that dream build on the rack and on the track (slash-trails).
In this week's Product Spotlight, Time2Shine has gone all-out for us, building-up the tastiest two-six, dirt diggin' dream machine in any domain.
Based on the Supercross "Shine" V4 DJ/4X Hardtail Frame, the build, which we're calling the "Triple-Shine" (SX Shine, by Time2Shine, in shiny Chrome Plate) is stacked with a primo parts package that brings the MTB and BMX brand-universe into rare alignment.
We'll give you a moment to go get a drool cup….
Time2Shine BMX "Triple Shine" Custom Build Parts Package
Supercross Shine 4X Frame (Large)
RockShox Pike Ultimate 26"Fork
Speedline Tapered Headset
Speedline Quick Release Seat Post Clamp
Speedline Carbon Headset Spacers
Supercross Pivotal Seat Post
Supercross Padded Pivotal Seat
Spank Split Stem
Spank Spike Vibrecore Bars
Spank Spoon 32 26" Rims
Onyx Mtb Boost Helix Front Hub
Onyx Mtb 12X142 Rear Hub
SRAM GX Drivetrain 1x 12
SRAM Level Ultimate Hydraulic Brakes
SRAM 180MM Front Disc
SRAM 160MM Rear Disc
SRAM NX Chain
ODI Rogue Lock-On Grips
DT Swiss 12X168 Thru Axle
MAXXIS Minion DHR-II Tubeless Tires
Holy schnikes!…That is some serious beef on the hoof, right there.
It's a one-of-a-kind build, so first one to the finish line on the "checkout" page gets it (check it out, in full, at the link below)!
---
Links