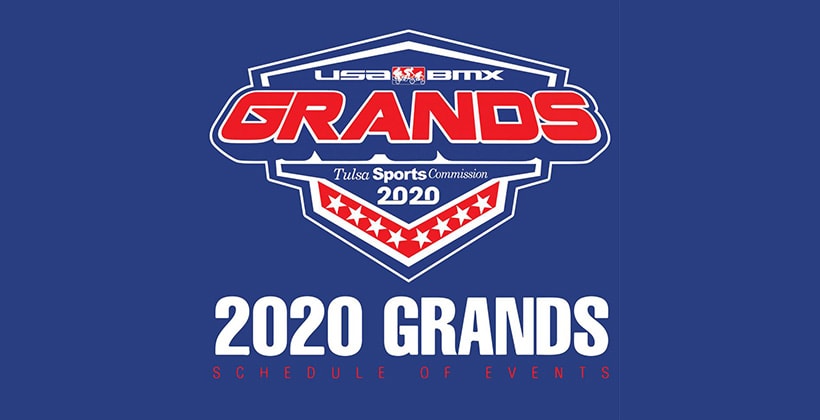 After months of social media speculation as to whether the 2020 USA BMX Grands would happen, and if so where, USA BMX is out today with the official word. Many staffers assured the community the race WAS going to happen, but that did not stop the threads from overflowing with conspiracy theories.
After all that, we learn that the race WILL be running, in the regular place, at the regular time: Tulsa, OK on Thanksgiving weekend.
The schedule and proceedings are not exactly as-if COVID-19 never happened, however. Here are some of the changes:
– The official schedule has been reworked to bring the one and only practice day to WEDNESDAY. Pro Practice–usually a mid-day staple of practice day, will happen in the last slot on Wednesday night–9:15PM-10:15PM.
– Wednesday practice clears the way for the Race of Champions to become a two-day affair, on Thursday and Friday. First and second rounds of racing will be Thursday, and the balance of the race on Friday.
– Elite/Vet/A-Pro racing will take place on Friday. The Pro Championship Final evening show will shift to 6PM Friday night. The 2020 pro titles will be decided strictly on the basis of the Friday finishes.
– The Grands, itself, will offer "Pro Open" Racing, as all other events without official pro classes have offered.
– Motos for the ROC and Grands will be posted ONLINE ONLY.
– Grands will run first and second rounds on Saturday EXCEPT second round of Open Classes, which will run starting 8AM on Sunday.
– The balance of the Grands will run after the opens finish up on Sunday morning.
So, those are the highlights of the week's schedule changes. Honestly, apart from the financial burden of another hotel night, and *needing* to be at the track during Thanksgiving Day for second round riders, this may be a much nicer format, allowing us to get out of the building more, and earlier each day. Grands Sunday night was not breaking up til 11:30 in recent years.
Apart from the racing schedule adjustments, there is also a spectrum of COVID-related safeguards being implemented by Expo Square to help keep the COVID away. These include:
• Masks must be worn in the building at all times.
• Plexiglass screens have been installed in areas with direct contact with guests.
• Signage reminders have been placed in strategic areas to remind and instruct guests to practice social distancing.
• All touchable surfaces will be regularly disinfected.
• Sanitation Stations have been installed throughout providing public access to hand sanitizer.
• Building will be sanitized with electromagnetic sprayers regularly.
• The River Spirit Expo is designed to completely recirculate inside air with fresh outside air up to every 20 minutes.
• USA BMX has added an extra day to the Grands this year to encourage riders/families to spend less time in the building.
• USA BMX encourages riders and families to spend time outside the building.
News asked USA BMX if the pits/factory displays/vending space upstairs will be any different. The reply was that it would be "very much the same as every year," but will include "some directional rule following to mitigate traffic."  Also that the event was "approved to offer the same floorplan and space available (as in previous years)."
The betting window is open, and vigorous discussion starts now as to whether people will embrace this new format, or if that will be the tipping point that makes people call Aunt Betty and say "We're COMING to Thanksgiving this year, so make extra turkey and candied yams."
We will find out in 60 days!
—Mike Carruth
---
Links
2020 USA BMX Grands Schedule (PDF)
---
This Article is presented by Time2Shine BMX