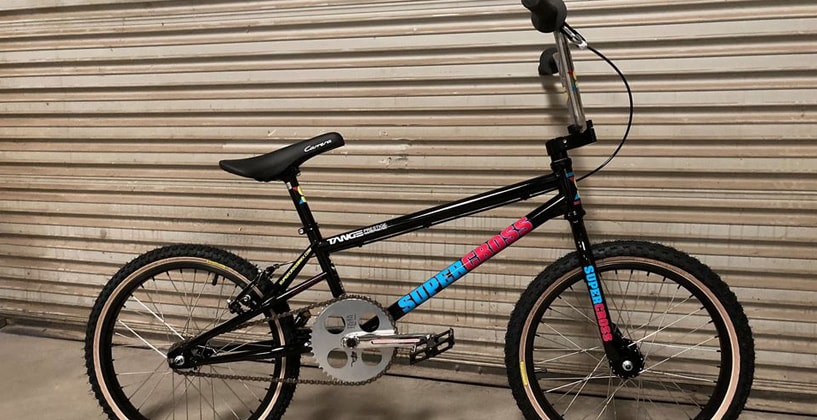 Supercross BMX just passed their 30th anniversary. As part of the celebration of this most-rare BMX industry milestone, Supercross chief Smilin Bill Ryan is out with a super-exclusive anniversary "Black Beauty" complete bike.
Only 10 of the 20-inch and a more-modern 29-inch models were produced (which, as you will learn as you read-on, has historical significance), featuring a replica of the original Supercross "six-bar" frame that started it all, and led the brand's fleet for the next decade, in chromoly and later, aluminum models.
If you are a fan of real-roots BMX Racing, this is the time to dig in on a great tale of one of our sport's most-storied brands.
The link below has all the specs on the bike including genuine Redline Flight Cranks, A'ME Tri grips, Dia-Compe Brakes, Tioga Comp-III (yellow label) tires and other tasty treats that integrate well with the "Behind the Music" story.
Bill gave us a quick peek at how the Flight Cranks and the Tiger Teeth chainwheels ended up on these bikes:
We did Redline Flight Cranks on these bikes for a few reasons. One: they are bad ass. Two: we were assisting with team manager duties at Redline for SBS at the time and were helping the Redline team and presence grow, etc. So Redlines were the only choice for these bikes.
We wanted to run Tiger Teeth as well. When we first started Supercross BMX one of our first dealers was S&S bikes out of Texas, and Michelle Sheehan used to buy a lot of TECH and she bought a lot of Supercross. From that shop, Michelle, with her son Ryan Sheehan, created the bitchin' bolts (which are on the bike) and the Tiger Teeth chainwheels which we ran a lot of and sold a lot of at our store Power Plus Cycles.
Well, a few years ago, the world lost Ryan Sheehan at his own hands, yes Ryan committed suicide. I called Michelle and asked her if we could recreate the Tiger Teeth for these bikes, in Ryan's honor. She loved the idea and agreed, so we have Authorized Tiger Teeth on the genuine Redline Flight Cranks.
Speaking of behind the music stories, Bill posted the following on social media over the weekend. Some great stuff, from a time when Supercross BMX was moving from the "idea" phase into being a real bike building brand. As with any start-up, things don't always go as planned.
The Black Beauty…only a few people will understand the significance of why we did the limited-edition complete sx250 in Black, they won't understand why we only built 10, but true fans know.
(Back in 1989), When Brent Shoup called me to say that the first one was ready, we drove over to pick it up…the welds were still warm, and my roommate, partner in crime and best bud at the time Todd Anderson and I spray-painted it Black so we could build it up and ride…and ride all night long we did.
The next morning when Billy Griggs came by the shop to check it out and give it a ride and said that it "rode like his bike" we knew it was right and we had to move forward.
We couldn't afford to do a full production run the first time out, we wanted to, we really did, but we couldn't, so we built 10.
When I decided we were doing these limited-edition completes, we wanted to do it right and have a few meanings tied into things.
I sure wish we had that original prototype that Brent Shoup welded up for us, unfortunately, while Todd and I were living in a super-shady apartment in Mission Hills (right down the street from the old BMX Plus! Magazine offices) someone smashed out the rear hatch window of Todd's old Honda Accord while he had it parked in front of the stairs one night.
The car was running, I might add, as he ran home to grab something real quick, and was out of the car for no more than 5 minutes, he probably had to use the bathroom before he headed to Dawn's house (now his wife).
I can guarantee the thief had no idea what he was taking, or who knows, maybe he did, but I know Todd was super-bummed, because he had to miss shows with Danny Hubbard and Eddie Fiola in the morning.
I hope the thief enjoyed it.
So if you ever see a non-serialized six-bar Supercross Sx250 in the Mission Hills area, give us a call…
We may not have the original bike, but I still have all my friends and the memories and that, that is what BMX is about!
Wow…What a great story, though with an unfortunate ending! We absolutely love the "welds were still warm" account from way-back in 1989.
Apart from the few-remaining units of the complete bike, a select number of frame-only opportunities exist, in Pro XL, Pro XXL, Pro XXXL and Pro XL 24″. Finishes include Black, Chrome Plated and raw. Those are shipping now from Time2Shine BMX, via the link below.
Check the link below for the full specs on the 20-inch and 29-inch models.
---
Links
Supercross BMX SX250 – 30-Year Anniversary Complete
Supercross BMX SX250 – 30-Year Anniversary (Frame Only)
---