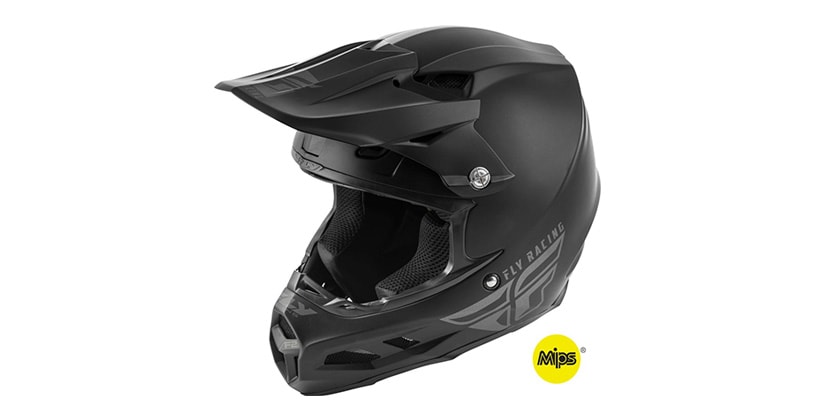 When you send your rider out onto the track, or gate-up yourself, there is always that outside possibility the lap will end in a crash. That, of course is why long pants, long sleeve shirts and helmets are part of every BMXer's "kit."
In this week's Product Spotlight, we're focusing on the helmet (aka Skid-Lid, aka Brain Bucket–all fitting descriptors). The F2 Carbon Helmet by Fly Racing is among the top choices to wear up-top.
The F2 Carbon features MIPS technology (Multi-Directional Impact Protection System), which protects your kits and your wits with a proven system to minimize impacts that might happen– on the track, or when you're riding off-track.
AND…it's a bicycle-specific helmet. That's an important designation, because while some may think "the heavier, the better," it's an accepted concept among the helmet-heavies that helmets, built for Motocross, let's say, or snowmobiling, car racing or other motorsports, may end up doing more harm than good to the noggin of a bicycle-wearer.
We like the matte-black shell, which is why we're featuring it, but the F2 also comes in a variety of colorways, to line-up with your colors, whether team or your individual vibe.
The F2 is ECE/DOT approved and is light on your head, without making you light-headed.
BMXers are known to put a lot of "sweat equity" into their racing…and that sweat tends to stink-up the gear bag, the car and wherever it lives between the next racing or practice. Well, good news, mom…the F2 has a removable and washable "COOLMAX" comfort liner and cheek pads.
Available in NINE sizes (from X-small to 5XL) for the tiny walnut to the most-mucho melon-head.
As much as we want to, we're not going to say anything about "Don't put a million-dollar head in a 20-buck helmet."
Shipping now from Time2Shine…check the links below for pricing and additional specs.
---
Links
Fly Racing F2 Carbon – Matte Black
---