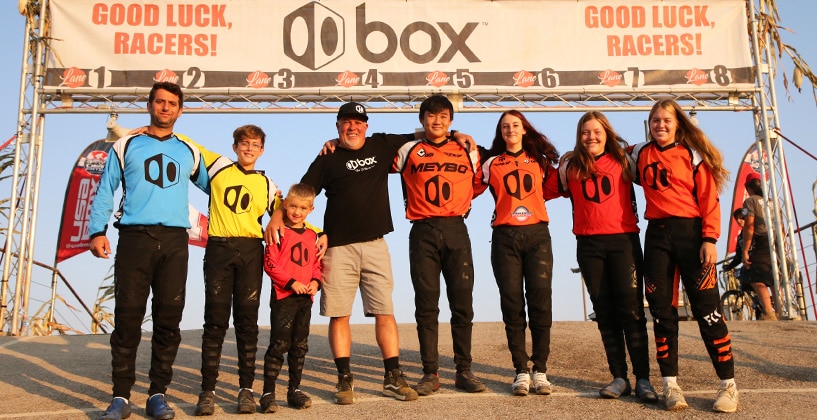 Box Components has one of the most-solid Factory teams at the races today. Alec Bob, Ronnie Kim, Jemma "Lil JT" Tollefson, Brayden Higgins and Nathan Kitchen are all getting lead-rider calls from the tower on-the-regular.
And the Box "Level-Up" Program riders are making themselves, and their sponsor, known at the local, state and Gold Cup races, repping the brand where families who are making purchase decisions are most-likely to be.
It's been a minute since the "Hex Lab" Team has had a dedicated Team Manager, but that has changed.
Dan Dalton (center, in above photo) has deep roots in So Cal. BMX Racing, as well as MTB and Moto-cred as one of those elite mechanics who sets up the bikes of the stars just-right.
Aside from those roles, Dan has his hands in the dirt, as Track Operator of Hesperia BMX.
We talked to Box head-honcho, Toby Henderson, who had this to say about adding Dan to lead the team:
We're happy to report that Dan Dalton will be in charge of the "HexLab" racing team consisting of Alec Bob, Ronnie Kim, Nathan Kitchen and Jemma Tollefson.
Dan has been a long time supporter of Box with his daughter, Liberty, and we're happy to have them, and the whole Dalton family aboard.
Dan's been around BMX Racing for 40 years as well as track operator at Hesperia BMX. We need all the help we can get, moving forward in today's crazy world, and Dan is a huge "get" for us.
Here's What Dan told us about the new post:
I am super-stoked to have the opportunity to work with Box components as the BMX Team manager for the BMX Hex Lab Factory Team in addition with the "BMX Level up" program riders.
I started racing BMX in the early 80's and have also been involved in the MTB and Motocross industry for over 35 years. Eight years ago, I also became Track Operator of Hesperia BMX, the track where it all started for me.
I'm looking forward to helping the riders set and reach their goals, and being the best they can.
It's always-awesome to see people already-dedicated to the sport of BMX step-up and get MORE involved. A BIG BMX News "congrats" to Dan and Box on getting together.
Go say "Howdy" to Dan at the Box pit at some of the upcoming nationals, and grab some team autographs, while you're at it.
—Mike Carruth
---
Links