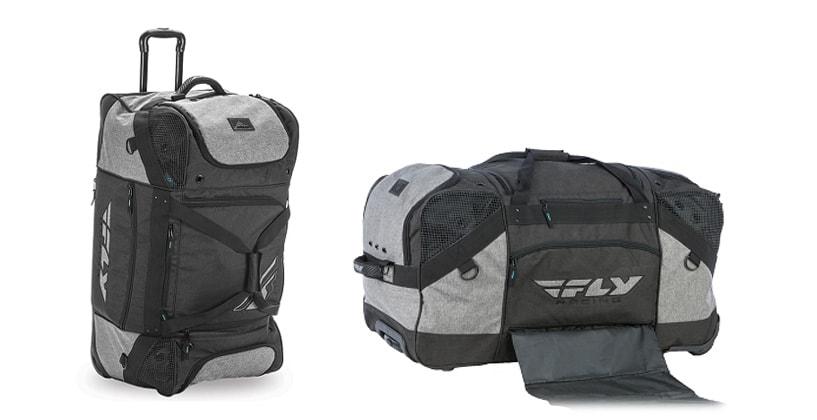 Whether you are packing up for a flight on the big silver bird, or a ride in the family rig, transporting all your race day gear in one rockin and roomy bag is the solution to the "turn back."
You know what we're talking about…the inevitable call from the back seat "Mom…I forgot my (helmet/pants/shoes)!" Gotta turnaround. Or, if that call comes after you pass through security and board the aircraft, you need to whip out the card and buy it at the track.
Not everyone can do that, of course, so it introduces unnecessary stress on your race weekend, as you try to make something happen.
All of that can be avoided with the FLY Racing "Roller Grande" Gear Bag. All the gear you need, and even some "backup gear" you may not, all in one "grab & go" place.
The Roller Grande is the ultimate gear bag, and so large, that it is pretty much a "condo" for your coolest race day kit(s).
As the name implies, it's on-wheels, for rollin'-easy through the parking lot at the track, or the airport after baggage claim.
It's built-tough, with PVC-backed nylon for your sweaty and/or wet-weather encounters, inline-skate-style wheels for smooth traveling, telescoping pull-handle, and is ready for a long-term relationship with your rider(s).
We're pretty-sure this was made for moto, so all the pockets and places are super-sized, including a fleece-lined goggle pocket. That's Rolls Royce-level comfort for your gear.
Shipping now from Time2Shine BMX. Grab-one-up before they sell out for the season.
More info and ordering info at the link below.
---
Links
FLY Racing Roller Grande Gear Bag
---