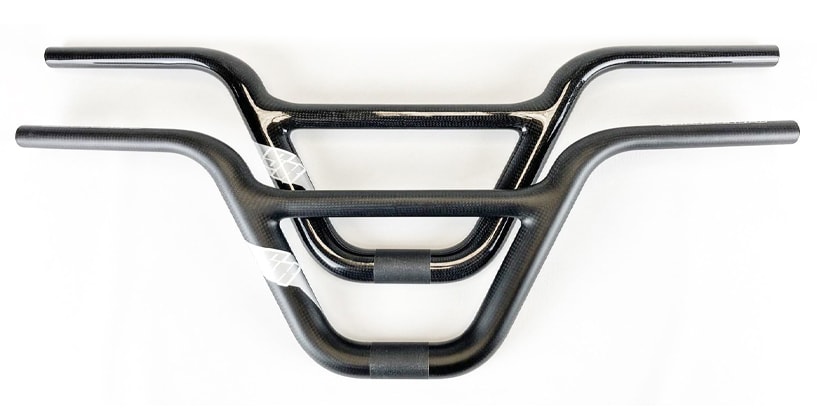 When you need a stiff grip more than a stiff drink, look no further than the Supercross BMX Pro Carbon bars. With an 8-inch rise and 28-inch width, the SX carbon bars will put some primo pep in your pull.
BMX Racing is a game of fractions-of-a-second (unless you're beating them by a straightaway). Greater stiffness and less weight drops the tick-tock in such a way that your at-the-line-lunge may-well come up roses the next time the chips are down.
We all know "speed costs money," but a lot of things cost money, right? Your investment in the highest quality racing equipment possible is a testament to your unflinching commitment to being–and beating– the best.
At $249.95, the Supercross Carbon Bars are top shelf hardware, to be sure. But the level of care and engineering that went in to their design and production are above reproach.
The full monocoque Torray T-700S high-compaction construction is the same as on the Supercross ENVY BLK and the BLK Forks. That means time-consuming hand layup, wrapping, meticulous molding, eagle-eyed finishing and Factory Team testing.
Specs: Supercross Pro Carbon Handlebars – 8″ Rise

Width – 28″
Rise – 8″
Back Sweep – 6º
Up Sweep- 2º
Clamp Width – 50 mm
Weight – 14 ounces ( 390 Grams )
Finishes: Matte or Gloss Black.
So belly-up to these bars on Raceday, by checking the link below.
---
Links
Supercross BMX Pro Carbon Handlebars
---