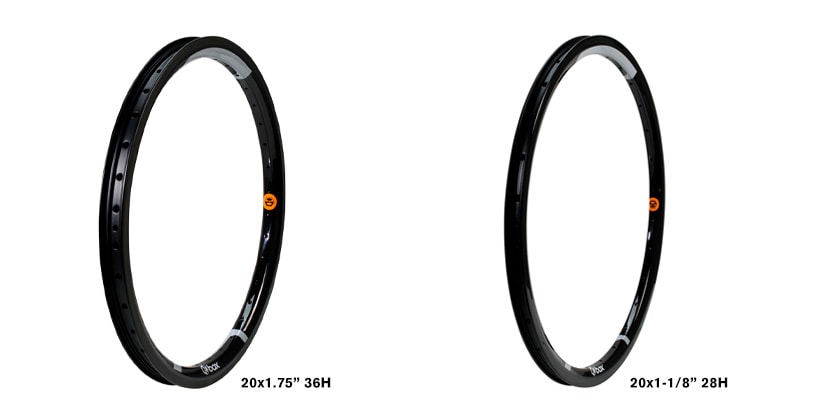 Carbon fiber–frames, forks, cranks, seat posts and more are some of the most-sought-after BMX parts under the sun. And, most recently, high-society hoops, carbon rims.
Box Components has two models on-offer, in 20×1-1/8 and 20×1.75, and come complete with a drool cup you can pass-around for those casting their gaze on your new carbonized scoot (ok, maybe not that last part).
We asked Box Components big-shot, Toby Henderson, a straight-up question on this one, and he gave us the kind of "insider" answer that helps "Product Spotlight" readers know what's up.
News: "What makes carbon rims worth the investment?"
Toby: When you ride carbon rims, an experienced rider will be able to spot the difference, pretty-quick. And with less-experienced riders, it's there, even if they don't notice it.
It's hard to describe, but the best I can do is to say that there is a "thump" in aluminum rims, and a "twang" in carbon rims.
The "twang" is what you get from the stiffness of just-the-right carbon fiber lay-up.
After my pro BMX career, I raced Mountain Bikes for 10 years…and in MTB, you want the "thump," and dialed-in tire pressure to soften the impact of the natural terrain…but on a smooth BMX track, you want the "fast-twang" of a carbon rim.
They are a bit heavier than the aluminum rims–and we make those, too, of course.
But for the rider who wants a faster roll, the Box carbon rims will do it for them.
I need to also add that not all carbon rims are created equal…there is a manufacturing process that we have worked out to lay it up, just right.
That was some great insight into both the virtue of running carbon rims, in general, and Box carbon rims, in particular.
Here are some specs to chew on:
Box Carbon 20×1.75" 36H Rim
Hole Drilling: 36
Internal Rim Width: 23mm
External Rim Width: 30mm
Rim Height: 25mm
ERD: 378
ETRTO: 406mm
Material: Unidirectional Carbon Fiber
Weight: 320g/11.2oz
(Front and rear are the same specs)
Box Carbon 20×1-1/8" 28H Rim
Hole Drilling: 28
ETRTO: 451mm
Internal Rim Width: 24mm
External Rim Width: 25mm
ERD: 421
Material: Unidirectional Carbon Fiber
Weight: 300g/10.5oz
(Front and rear specs are the same specs)
And while the specs on the front and rear are the same, the "rear" version has a braking surface that is made to put a stop to all this go-fast, when called-upon. Disc brake dudes and dudettes order up two fronts to keep the shiny-side shiny.
Shipping now from Time2Shine. Check the links below for ordering and pricing info.
---
Links
Box Carbon Rim (20×1.75″) FRONT
Box Carbon Rim (20×1.75″) REAR
Box Carbon Rim (20×1-1/8″) FRONT
Box Carbon Rim (20×1-1/8″) REAR
Time2Shine BMX Rims Collection Page
---