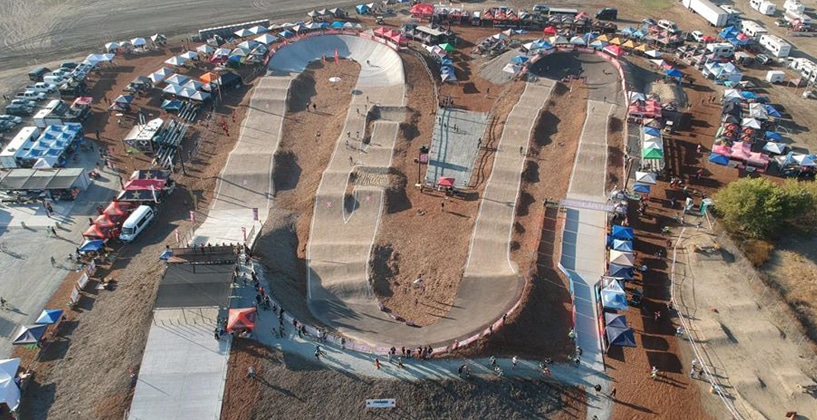 As the United States experiences a regional resurgence of COVID-19, state and local governments affected by the spikes are "clawing-back" some of the so-called "open orders" that allowed businesses to open, and to re-start the activities of daily life that begin tilting-back in the direction of pre-COVID America.
California, and 15 of its counties are included in that list of jurisdictions that are rolling-back previous plans to re-open.
Consequently, USA BMX was advised by public heath officials to cancel next week's "Summer Classic Nationals" in Lemoore (Kings County).
As reported by News on June 12, Lemoore was a rare "safe port" of open communities on the West Coast in the COVID storm–following the postponement of the Las Vegas Nationals, originally scheduled in that town, the weekend of July 10-12.
The Summer Classic is the first race in the 2020 USA BMX National Series that has been officially marked as "canceled." Perhaps Vegas will open up in time to revisit the Las Vegas Nats. At this point, the proverbial betting window is open on that.
This was the statement that USA BMX released, regarding the Lemoore race, late Tuesday:
The Summer Classic Nats was rescheduled to July 10-12 in Lemoore, CA. Since that reschedule, the CA health department has been monitoring increased cases in surrounding counties near Lemoore. USA BMX was advised by the health department this afternoon to cancel (the race), and in order to ensure that safety is the number one priority when hosting events, the Summer Classic Nationals are cancelled. We appreciate your patience and understanding as we navigate through this time.
Any rider who pre-registered for this event will receive a refund automatically to their credit card. Additionally, all reservations for hotel rooms for this event through BMXhotels.com will automatically be cancelled and the deposit will be refunded. @lemoorebmxraceway
WHAT'S NEXT?
As of tomorrow, it will be 20 weeks til the 2020 USA BMX Grand National weekend kicks off in Tulsa. No indication, at least as of today, that there will be any change to that plan.
Right now, there are SEVEN races on the original schedule that have not been postponed (Buckeye, Hub City, East Coast, Lumberjack, Fall, Mid-America, and Sunshine State Nationals). The next race is the Buckeye Nationals in Toledo, OH which, is listed as "confirmed" as of today.
The Stars & Stripes Nationals (July 3-5) were moved from South Park to Imagination Glen in Portage, IN this weekend–all is well on that front.
The Dixieland Nationals were rescheduled from May 8-10, and will now run on July 17-19.
The Music City Nationals were rescheduled from June 5-7, and will now run on Labor Day weekend (Sept 4-6).
We are usually in Louisville for Labor Day, of course, but the reschedule of the Kentucky Derby caused the reschedule of the Derby City Nats (no new date is public at this time, for that one).
Therefore, NINE nationals (Spring, Great Northwest, Cajun, Golden State, Land O' Lakes, Midwest, Great Salt Lake, Las Vegas and Derby City Nationals), are still officially classified as "postponed."
DON'T WORRY, BE HAPPY!
Like most things in our current life, BMX Racing is, and has been, in a fluid state. You have a choice of getting all-riled-up about the changes now, and to come; or say "You know what? We'll go to the races we can get to, and it's all-good from there." No amount of fussing is going to make the day go better, right?
In USA BMX, we have a supremely-dedicated group of professional race-runners dodging-and-weaving through regulatory razor blades to make it happen for us. That should serve-up some comfort, as far as the nationals go.
And, of course, at the local level, we have thousands of local track volunteers who want nothing-more than to deliver a great customer experience to your family, and every other. Let's celebrate that! And thank them, whenever we can.
Keep your Internet eyes on BMX News in the coming days and weeks for the latest on the 2020 USA BMX National schedule, and any other headlines that affect BMX Racing in the USA.
—Mike Carruth
---
This Article is presented by Time2Shine BMX