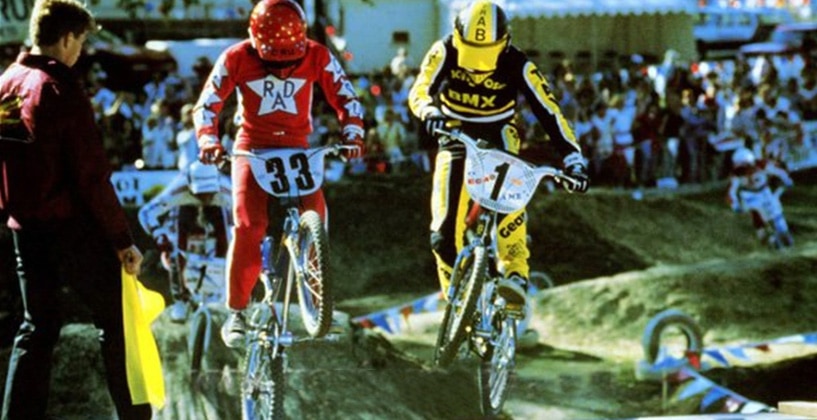 The 1986 release of the movie, "RAD" occupies a permanent place in the heart of every BMXer who lived during that time. New generations are being exposed to it by their parents and grandparents, who want to share this classic BMX film of their youth.
The film was available only on VHS or Laserdisc since 1986, but earlier this year, news broke that a 4K restoration was in the works, and a theatrical re-release, kicking off with a "re-premiere," which was given "Special Event" status at the South By Southwest Film and Music festival, in March.
South-By 2020 was canceled at the last minute, as a result of the mounting COVID-19 scare; and when all movie theaters around the world shut down in short-order thereafter, the stunning 4K big screen experience would have to wait.
Fans would get a special treat in May, when a limited edition 4K UHD/Blu-ray combo pack was released by Utopia Distribution, through their partner, Vinegar Syndrome. The title quickly sold out, and we're waiting for news of a new batch being posted for the rest of us who did not get in early.
The "RAD" 4K Restoration is heading for streaming platforms in July. As part of the run-up to that, we were able to score an interview with Utopia Distribution co-founder, Robert Schwartzman as well as RAD cast member (and legendary actress of "The Godfather" and "Rocky" fame), Talia Shire.
"RAD" was a family affair for Ms. Shire's family. Her late-husband, Jack Schwartzman, was the Executive Producer of the film, and step-son John served as cinematographer for the now-famous opening and closing credit sequences.
Robert Schwartzman, who was three years old when the film was released, grew up around the film and, through his company, Utopia Distribution, oversaw the 4K restoration that brings us here today.
Watch the interview now:
This interview was a ton of fun for me, and I greatly appreciate the time Talia and Robert gave us to reminisce about the production, and the road to bringing the restoration back, for the fans.
Here is the trailer for the 4K restoration:

Friend of News, Tony Donaldson, organized a "behind the scenes" running-commentary in 2014, which brought-together seven members of the production, including stars Bill Allen and Bart Conner; writer/creator Sam Bernard, and BMXers Eddie Fiola, Martin Aparijo, Jose Yanez and fan site runner, Jeremy Moser. It is the essential fan experience, if you want all the insider stuff.
The link below will take you to our September 25, 2014 story on the production of the "behind the scenes" track, with a link to the iTunes download.
The next 30 days are going to be packed with some RAD action, as the "Special Edition" of the film becomes available on AltaVod, beginning July 10th and elsewhere on demand July 24th.
Check the links below for more on this story:
---
Links
"RAD" Special Edition, Streaming as of Friday, July 10th
(Set yourself an alert for this; the special edition will only be up for a short time)
"RAD, Behind the Scenes" (with link to download)
---
This article/interview is presented by Time2Shine BMX