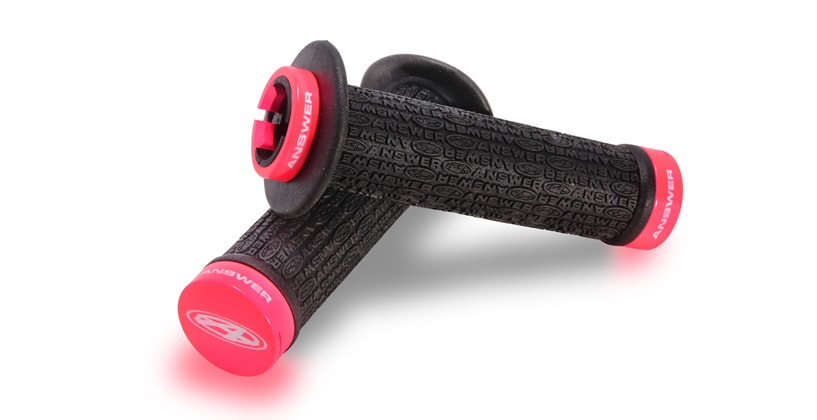 If you're going to do a one hander, it's best to do it on purpose, not because your sweaty race day palms made your grips slicker than whale snot (and believe us, that's SLICK).
The flanged and flangeless Answer BMX Grips are just what you need to stick to going fast, and not worrying about holding your bars with a white-knuckled kung fu grip.
They are molded with a super-sticky, specially-formulated rubber compound that had to get the green checkmark from the Answer Factory racing crew before they could be offered to you.
You know the hardest thing about those cheap grips you're running (aside from all the entry fee money they cost you in slower laps)? Cheapies never quite "settle." They are always throttle-twisting or moving side to side until one day "FOOMP!" one comes off– unauthorized one-hander, once again. That's not happening here, thanks to dual lock-rings.
On the Answer Grip bodies, you can have any color you want, as long as it's black, with a tread surface embossed with the "ANSWER" and "Circle-A" logo, on continuous loop. The lock-ring hardware comes in eight fashion-forward colors to line-up with your parts ensemble.
Pictured above is the newest in the lineup, Flo-Pink. All eight colors are available in mini and pro sizes. Flangeless version is pictured below.
Here are the specs:
FLANGED
Mini
Diameter: 30mm
Length: 105mm w/ locks
Bar Ends: Aluminum end cap
Weight: 3.8 oz
Pro
Diameter: 30mm
Length: 135mm w/ locks
Bar Ends: Aluminum end cap
Weight: 4.8 oz
FLANGELESS
Mini
Diameter: 30mm
Length: 105mm w/ locks
Bar Ends: Aluminum end cap
Weight: 3.4 oz
Pro
Diameter: 30mm
Length: 135mm w/ locks
Bar Ends: Aluminum end cap
Weight: 4.4 oz
Check the links below for more info and ordering info…
---
Links
Answer BMX Grips (Mini Flanged)
Answer BMX Grips (Pro Flanged)
Answer BMX Grips (Mini Flangeless)
Answer BMX Grips (Pro Flangeless)
---