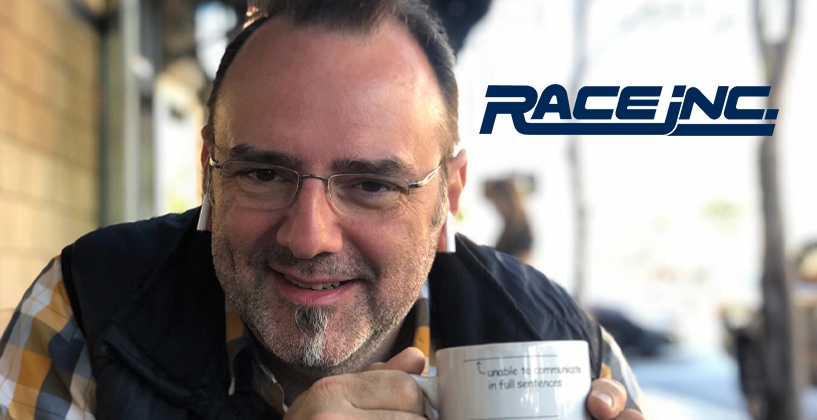 Whether you were around Back In The Day, or are fairly-new to the sport, you might recognize the BMX brand "Race Inc." as a purveyor of quality BMX hardware, with an eye on the light-side of the scale. If you don't, that's cool too, because a new chapter is about to start.
In the early 80s, Race Inc. had one of the first aluminum BMX frames and came in very-distinct, anodized colors (which pretty-much didn't exist at the time, on frames).
The one I wanted was proudly-perched in the local bike shop window, for the whole neighborhood to "oooh and ahhh" over. It was all-gold, with a few black parts for accent. True beauty, that a 13-year old never forgets.
Fast-forward into the next century, and Chris Hancock out of Indianapolis brought the brand back in the mid 2010s.
We saw quite a few of his frames at the races; and he even got the proverbial band back together, providing a new school bike to legendary Race Inc. Factory Hotshoe, Mickey Lundy. Mickey came out of obscurity to hit a few big races in recent years…and is rad-as-ever.
Flip some more calendar pages, and here we are, in 2020. The brand is moving in to capable new hands, assisted by a very-familiar name to the BMX Racing Industry.
Marc Côté is the new owner of the brand, having acquired it from Chris Hancock. Marc, who is based in Montreal, Canada, formed a new entity— American BMX Company, or ABC.
A long-time entrepreneur and businessman, Marc has an interesting skillset, with background in robotic engineering, as well as film and television visual effects, among other ventures.
In a release sent to BMX News, Marc said:
Life takes us all on a ride. But life's many obligations can pull us away from our roots. My roots are in BMX. As a father, I had the pleasure of watching my boys riding, jumping and racing BMX bikes. Watching them ride, my own past came back to me.
Yes, indeed! Marc is a BMX dad of two sons (Kael and Jude, pictured below, with dad at Chula Vista), who raced in the 80s, on his very-own Race Inc. RA-7, which he still owns today.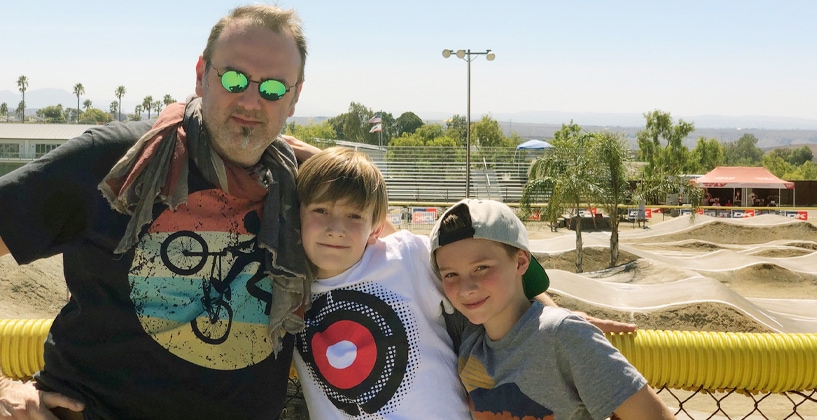 Being around BMX again reignited my passion and, more important, reminded me that my 10 years in BMX gave me more than fun. BMX fostered in me things I have carried into every aspect of my life—my desire to go faster, to endure pain and to win.
In a sense, it gave me the joy of achieving what I thought was impossible. I want that for my kids. I want that for other children. I want to share that passion.
Working with Marc on the relaunch/rebrand of Race Inc. is one of our favorite BMX product designers and marketing pros, Michael (never "Mike") Gamstetter.
News doesn't have enough digital ink to break down all of this BMX bro's bona-fides, but as a founding member of Toby Henderson's Box Components crew, chances are pretty good you're riding something he had a hand in.
He also rocked the house on some projects for DK Bikes and, before Box, was with Toby at VSI Products, where he worked on the Intense BMX and Speed (now Speedco) product lines.
(Time out…keyboard is smokin'!)
No blingy beauty shots or proto-ala-moto 3D models of new product to show just-yet, but the boys are working on a ground-up refresh of the frame line, which will be sold consumer-direct via their online channel.
And this film isn't over yet… Toby Henderson, himself, is in for a cameo appearance, saying:
We're excited to be working with Race Inc. Their new frames will be built around the oversize concepts we developed at Box and will be some of the most innovative out there. I'm really looking forward to seeing what they come up with.
The fresh-faced Race Inc. program will first see public eyes at the 2020 USA BMX Grands, and the brand is looking toward the 2021 season for the debut of their Factory Team (so you can hold the "sponsor me" emails and resumes for a few months).
The BMX News global command center now has Race Inc. on our "Big Board," which means we will bring you updates on their progress from time-to-time, as tasty tidbits become available.
Meanwhile, congrats to Marc and Michael! We wish you all the best in the new pursuit.
—Mike Carruth
* Editor's Note: The full-text of the release is linked below, as a PDF. Give it a look.
---
Links