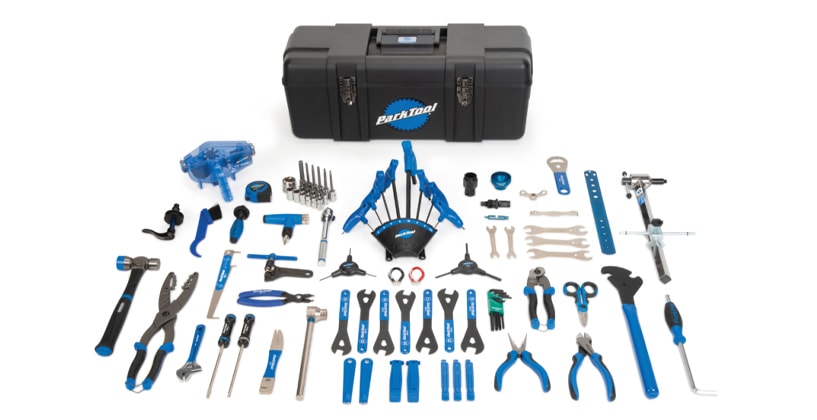 When your wrenching-on-the-bike toolkit includes a butter knife from the kitchen drawer, a pair of pliers, a couple of one-size-too-big Allen wrenches, plus a crescent wrench and hammer from Dollar Tree, all tossed into an old Vans box, it might be time to think bigger on getting-dialed.
As granddad used to say "there ain't no good in cheap tools."
Remember that time when the kid's bars moved back out of the gate in the Grands 1/4? Or when the back wheel moved-up at the State Championships? Yeah, well it happened…but it doesn't have to be that way this year, or for the balance of your kids' (and grandkids, probably) time on bikes.
The Park Tool PK-4 Pro Bike Tool Kit lets you roll like Spicoli, if his old man was a bike guy.
Park Tool is the top-choice tool brand you'll find in the work room of the best bike shops, the mechanic's van of the most serious cycling names in every discipline, and soon, under the tent of detail-minded BMX News readers like you. They last practically-forever, and come with a limited lifetime warranty, just-in-case. Precision-perfect, on your hand-picked, pricy bike parts.
Sure, you could go to a retail store and patch-together a slightly-more win-minded kit than the aforementioned Vans box. But it would not have all the tasty bike-specific tools the PK-4 boasts.
The right-and-best tools just feel "pro"…and that transfers to confidence for your rider(s) on the track, and on the fenceline for you (BIG relief breath).
OK, time for the big show. Here's the hit-parade of awesomeness…
ATD-1.2 Adjustable Torque Driver
AWS-1 3-Way Hex Wrench
AWS-3 3-Way Hex Wrench
BBT-10.2 Adjusting Cap Tool
BBT-22 Bottom Bracket Tool
BBT-69.2 Bottom Bracket Tool
BO-2 Bottle Opener
CBW-1 Metric Wrench
CBW-4 Metric Wrench
CC-4 Chain Checker — Instructions
CM-5.2 Cyclone™ Chain Scrubber — Instructions
CN-10 Professional Cable and Housing Cutter — Instructions
CNW-2 Chainring Nut Wrench — Instructions
CP-1.2 Cassette Pliers
CT-3.3 Chain Tool — Instructions
CWP-7 Compact Universal Crank Puller — Instructions
DAG-2.2 Derailleur Hanger Alignment Gauge — Instructions
DCW-1 Double-Ended Cone Wrench
DCW-2 Double-Ended Cone Wrench
DCW-3 Double-Ended Cone Wrench
DH-1 Dummy Hub — Instructions
DP-2 Threaded Dummy Pedal — Instructions
DSD-2 Derailleur Screwdriver
DSD-4 Derailleur Screwdriver
DT-2 Rotor Truing Fork
FR-5.2H Cassette Lockring Tool with Handle
GSC-1 GearClean™ Brush
HMR-8 8oz Shop Hammer
HT-8 8mm Hex Tool
MLP-1.2 Master Link Pliers — Instructions
NP-6 Needle Nose Pliers
PAW-6 6-Inch Adjustable Wrench
PH-1.2 P-Handle Hex Wrench Set — Instructions
PW-4 Professional Pedal Wrench
RR-12 Tape Measure
SBC-1 Spoke, Bearing, and Cotter Gauge
SBS-1.2 Socket and Bit Set
SCW-13 13mm Shop Cone Wrench
SCW-14 14mm Shop Cone Wrench
SCW-15 15mm Shop Cone Wrench
SCW-16 16mm Shop Cone Wrench
SCW-17 17mm Shop Cone Wrench
SCW-18 18mm Shop Cone Wrench
SCW-19 19mm Shop Cone Wrench
SP-7 Side Cutter Pliers
SW-0 Spoke Wrench — Instructions
SW-2 Spoke Wrench — Instructions
SWR-8 3/8" Drive Ratchet Handle
SZR-1 Scissors
TL-1.2 Tire Lever Set — Instructions
TL-4.2 Tire Lever Set
TL-6.2 Steel Core Tire Levers
TWS-1 Torx® Compatible Wrench Set
VC-1 Valve Core Tool
Time for a little closed-eye-process now. Give a second look to that list, line by line…now, close those peepers, and envision you, taking care of business on the bike in the most competent way possible. That's how it's gonna be from now on, once you take delivery of the PK-4.
Check the link below for more info, and ordering info. Yes, it's an investment. But so is traveling to a big race, only to have an equipment malfunction. That's a bad investment. And the 16 hours home, in dead-silence, is the loneliest trip BMX has to offer.
This investment is better, and it comes with smiles, hugs, high-fives, ice cream, trophies and road songs, all-the-way-home.
---
Links
Park Tool PK-4 Professional Bike Tool Kit
Tool Department on Time2ShineBMX.com
---