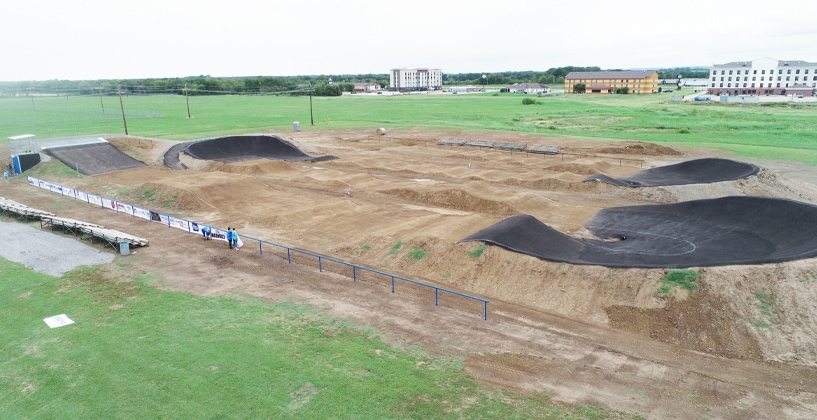 Oklahoma will be the location of the first USA BMX National race, following a two-plus-month break due to the COVID-19 shutdown. The Nabholz "Bounce Back Nationals," presented by MidAmerica Industrial Park will be held. June 5-7 (a three-day national) at Mayes County BMX in Pryor, OK. Pryor is about 45 miles east of Tulsa. This replaces the Music City Nationals on the calendar, which was originally scheduled for that-same weekend, but postponed last week.
There is some fitting symbolism in making this the return to racing event. USA BMX has strong ties to Oklahoma, and is currently underway on the $20 Million "Epicenter" Headquarters facility, outside downtown Tulsa.
Oklahoma Lieutenant Governor, Matt Pinnell said, of the event, in a release:
"I'm thrilled that USA BMX is holding their first post-COVID-19 race at MidAmerica's BMX track in Pryor. While we are still under social distancing policies with spectators at this time, this national race will highlight the new MidAmerica facility in Oklahoma and the specter of live sports will provide much-needed entertainment during these times. The long term effect of having USA BMX races in Oklahoma will result in a great positive economic impact for our state, and we're incredibly excited to have them here.
The "Nabholz" in the race title is Nabholz Construction, the contractor currently building the aforementioned Tulsa facility.
Needless to say, all involved are solidly behind the success of BMX Racing in a BIG way, and it's great to see them joining the comeback fight.
USA BMX released a seven-page procedures document (link below), which outlines the special measures that will be taken to maximize social distancing, and minimize person-to-person contact.
Some of these measures include:
– Limited Spectators per family encouraged.
– Livestream of all racing throughout the weekend.
– Contactless Registration (web-based signup required)
– Moto Sheets will be online-only.
– Staging area will be substantially increased and lengthened.
– Riders must immediately leave the finish line, should wear helmets back to pits.
– No at-the-finish-line video review
– No on-track protests.
– Some changes to trophy slips.
Download the PDF for the full list and details.
Since there is limited time between now and race day, there is no time to set up "Stay to Save" deals…so there is a $10 discount per entry til 7PM June 2. Electronic registration will go til the normal end of registration on Raceday, and not be cut off the Tuesday before.
OK, Oklahoma, it's on! Start the clock at 23 days. Mother Nature, you know what your part is in all this.
See y'all there.
—Mike
---
Links
2020 Bounce Back Nationals Safety Measures (PDF)
---
This Article is presented by Time2Shine BMX