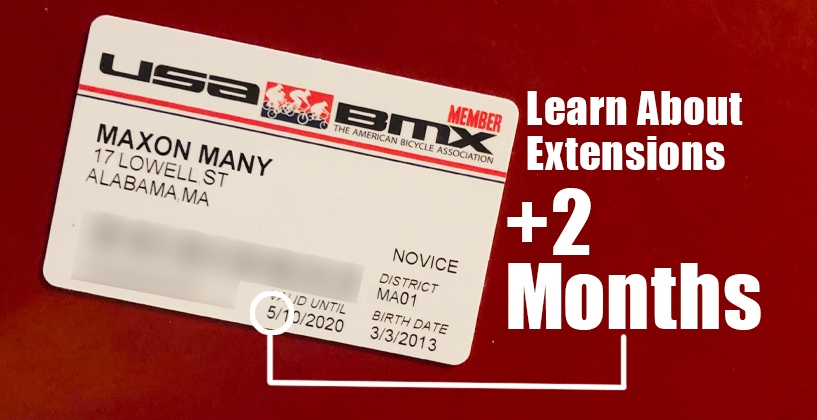 One of the burning questions on the fingertips of social media warriors, during the COVID crisis was "What about my membership? Will I get credit for the two months I have not been able to race?" In a podcast here on BMX News last month, USA BMX COO John David said "we are looking into that."
Today, the sanction officially announced the following:
To accommodate your lost time at the track, USA BMX will provide our members impacted by the COVID-19 closures with two free months of additional membership. Any member who has already renewed their membership this year will receive two additional months of membership. Any member who expired on March 1, 2020, or later, will also receive two (2) additional months added to their membership by renewing online today through December 31, 2020.
That is definitely good news for those who were concerned about their membership investment. Please note that it says "renewing ONLINE."
USA BMX also announced two other initiatives to help encourage new members to try out BMX Racing–some in the same household, and some from the community at large, spurred on by the COVID-driven cycling boom we are seeing across the country:
Each of the following membership offers are available for purchase until July 1, 2020:
Discounted Family Memberships – Families purchasing or already having at least one full-priced membership may add any number of brand new additional family members for only $30 USD ($35 CAD). These memberships must be purchased online, through our new mobile-friendly Membership Purchase Flow.
$30 Trial Memberships – Traditionally, a 30-day membership, we have now doubled the time to be a 60-day trial membership giving riders an additional 30 days to fall in love with BMX while also affording new riders more time to break up the cost of a full membership, if needed.
Check out the new USA BMX membership site for more info, and to renew yours now (link below).
---
Links
USA BMX Updated Membership Portal
---
Track Operators:
BMX News is preparing a list of tracks that are open and opening soon. Watch for that later in the day on Thursday. If your track is open or opening, please visit our "track status" survey page. Track operators only, please.
---