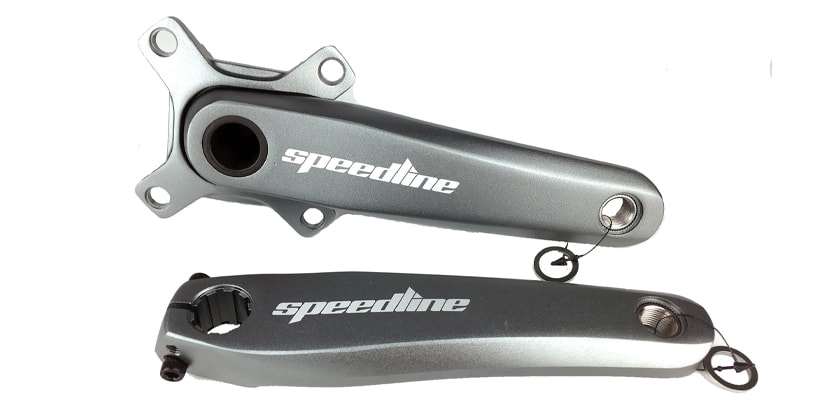 The engine room of your race ride is one of the most important parts of the parts list. Of course, this engine room doesn't have a crankshaft, but it does have cranks–the stiffer and the spinnier, the better.
Speedline's Elite Hollow Pro Alloy Cranks are ready to take the lead when those stumpy-quads you've been pumpin' in the gym need to do some stompin' against the comp.
Hollow, cold-forged aluminum arms hold their stiffness, even with full power applied, and keep the weight so low, you'll think your scoot was on Keto for a couple months. The narrow Q-Factor maximizes that spin-to-win style you've been working on in your sprint sessions.
Household-name holeshot hotshots like Felicia Stancil, Kam Larsen and Riley House all rely on the Speedline Hollows to help pony-up the ponies on Raceday.
Here are the specs:
BB Included: Yes
BB Style: EB24/BSA24
Color: Matte Carbon Grey
Weight (oz): 26.1
Crank Length (mm): 175 (170 and 180 coming soon)
Crankset Style: 2-Piece
Bore: 24mm
Spindle Material: Heat Treated 4130 Cro-mo
Crank Arms Material: Aluminum
Drive Side Compatibility: Right-Hand Drive
Pedal Spindle: 9/16″
BB Included: EB24 / BSA24
Chainring BCD: 104
Number of Chainrings: Single ( Not Included )
Crank Length (mm): 175 mm
Weight: 739 grams
Priced to move quick, just like you, at $379, via Time2Shinebmx.com, at the link below, so get-about-it.
---
Links
For more info, and to order:
Speedline Elite Hollow Pro Cranks
---