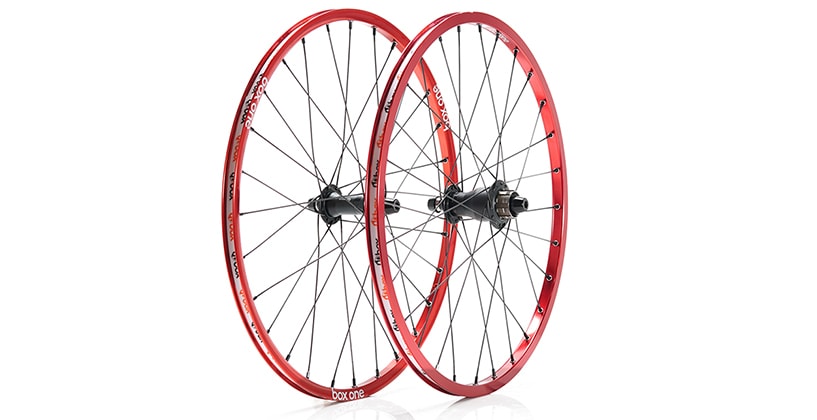 Earlier in the year, News brought you the story behind the fresh emergence of Stealth hubs under the new ownership of Toby Henderson and Box Components. Today comes a follow-up spotlight, showing off ready-made wheelsets, built in your choice of four colors.
Here's what Toby told us about the wheels:
After purchasing Stealth Hubs from True Precision Components over two years ago, we finally put all of our efforts in the long-awaited refresh of Stealth Hubs by Box. Our goal all along was to create a better high performance hub with instant engagement at a competitive price point and we are happy to say that we've finally met this goal. We look forward to finishing up the Pro hubs test and get it out to the market for the BMX community to enjoy.
These ready-built wheelsets bring a variety of the top-level "Box One" components together to create a full-package that is ready to roll, right out of the box.
SPECIFICATIONS
– Box One™ Alloy Rims
– Box One™ Stealth Expert Hubs
– Two-Cross Front / Three-Cross Rear Lacing
– Box One™ Expert Spokes
– Alloy Black Nipples
– 1,300g/45.8oz Weight
– Choose Red, Blue, Silver or Black Hoops
MORE ABOUT THE WHEELSET COMPONENTS
The Box One Alloy Hoops have a no-nonsense low-profile design that eliminates excess material, making them some of the lightest double-wall rims available. Featuring single eyelets to help prevent spoke pull-through, higher spoke tensions are possible.
Box One Expert Spokes are a heavily double-butted 14 gauge spoke (2.0/1.5/2.0mm) which is lighter AND stronger than traditional straight 15 gauge spokes. This is possible by using a spoke that is 14g at the ends but slims down 17g in the middle — this combination makes for an exceptional strength to weight ratio. Additionally included are lightweight black anodized aluminum nipples to further reduce rotational weight.
The Box One Stealth Expert Hub-set is designed to be lightweight FOR light weight riders and features small hub flanges, lower spoke counts, and decreased material to keep the weight down. This makes the Stealth Expert Hubset ideal any Mini, Junior or Expert wheel build, but may also accommodate a lightweight rider looking to move up to a pro-sized bike.
SET INCLUDES
· Box One™ Alloy Front 451 Rim
· Box One™ Alloy Rear 451 Rim
· Box One™ Stealth Expert Front Hub
· Box One™ Stealth Expert Rear Hub
· Box One™ Expert Spoke Kit (x2)
· Box One™ Rim Straps
Available now, check the link below for more info and to order some up!
---
Links
---