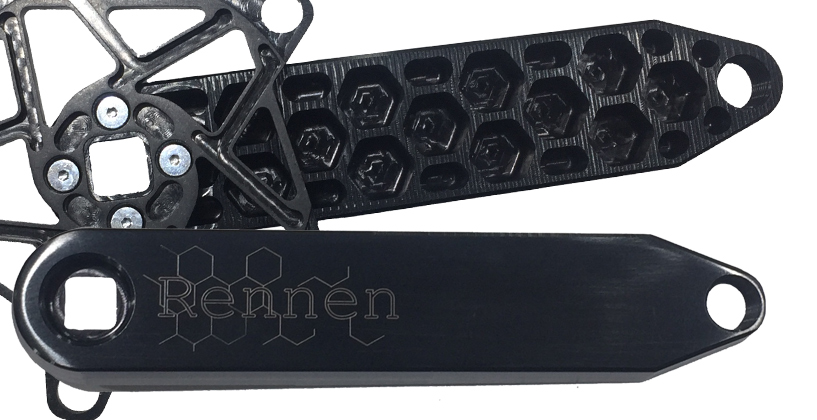 As much of the world whiles away the time in their Bunny Slippers, waiting for the COVID-19 all-clear, BMX companies are making gains. One such enterprise is Rennen Design Group, out today with a new product in their "Hydrogen" line of high-cool, low-weight components.
New first reported the launch of their Adjustable Crank back in late November–which are great for training and getting the optimal arm length dialed in…but admittedly heavier than the more discriminating dads would put on the gate against real competition.
So, barely 120 days and a wakeup later, George Costa is out with the Hive Crank, offered in an eye-popping 29 sizes, starting at 90mm and escalating up to 160mm, in 2.5mm increments.
George joins us on the podcast today to talk about the Hive Crank–its development, and all the innovation baked in the proverbial pie.
LISTEN NOW
We are definitely diggin' the design, which has just the right amount of trickness and performance–with material liposuctioned-out where it doesn't need to be.
There are tons of granular details to soak up, so check the link below and head over to the Rennen website for the full 4-1-1.
The Rennen Hive Cranks are available in 29 sizes, for $149, plus shipping. Oh and the color: You can have any color you want, as long as it's black (but George DOES say in the Podcast he might be able to do-up some custom colors with the right kind of sweet talk).
A big congrats to Rennen on the new member of the product family, and a big THANKS as well for giving us the first dibs on the scoopage.
—Mike Carruth
---
Links
Rennen Drivetrain Components on Time2Shine BMX
---