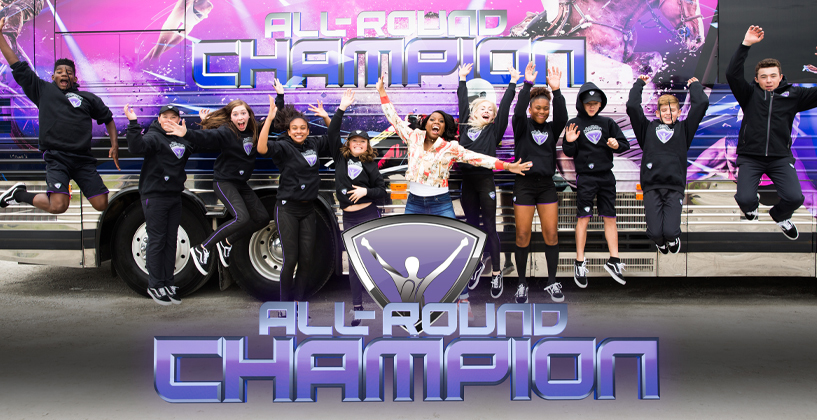 Over the past 9 months or so, a secret was in the air around the BMX campfire. We didn't know what it was (after all, what kind of secret would it be if we all knew), but we had a hunch it was probably something BIG.
Now, after unsuccessfully trying to loosen lips and pry clues out of sources, we learn the full story, on the very-day it is to be revealed to the world.
"All-Round Champion" is a new series, premiering tonight on the BYUtv network at 8PM US Eastern time.
The premise of the 11-episode series is to take ten 12-15 year-old athletes who are standout stars in their respective sports, and make them compete in each other's world for the hour-long episode.
That's a concept that promises to have all the hallmarks of great TV–"fish out of water" dynamics, the thrill of victory and the agony of defeat (to borrow a phrase).
Among the 10 athletes is Answer BMX Factory star Marshall Gehrke. "The Major" is one of those athletes who crosses over effortlessly from his bike to the basketball court, to the gridiron, so we're anxious to see how he does in diving, skateboarding, gymnastics and more. He was the youngest of the 10 athletes,
Hosted by Olympian and World Champion Hurdler, Perdita Felicien, the show originated in 2014 in Norway, and has made its way to North America via Canada's marblemedia.
We checked our U-Verse guide for the show tonight at 8PM Eastern, and it was "To Be Announced," but don't let that deter you. Most of us are staying indoors anyway, so check your local listings, otherwise its available free on the BYUtv app or website, you'll have to sign up for a free account to watch it live. Or, don't sign up and watch the rebroadcast the next day.
Visit our Facebook page to comment on what you thought about the show.
All-Round Champion Season 1 Trailer