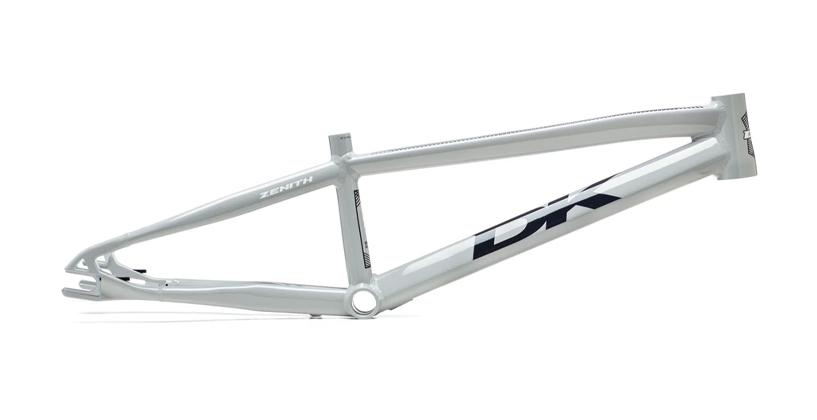 "The highest of the high" is how one might describe the Zenith of a given object. Such is he case with the newest frame system by DK Bicycles which, appropriately, carries the same name.
The doctors of dirt domination from Dayton have hit a new strata with the Zenith frame and complete bike. It has all of the tastiest features baked in, with jammin geometry, high tech tubing and a disc brake only ideology.
One of the things we try to do in Product Spotlight is bring more than just hype for a product, for the sake of hyping it. We want to take you "behind the music" to hear from the people who toiled over the design and manufacture of the product, so that it is pure perfection when it hits your bike rack.
The guys at DK gave us that, in a big way today, with the play by play of the Zenith's rise from a blank page to what you see today. Here's what they said:
The Zenith project began back in September, 2017. We discussed DK's origins as a garage brand and the continued focus supporting grassroots BMX. Getting riders onto the track is the why behind the DK Nano balance bikes and our Swift line of race bikes.
One thing we're especially proud of is that DK's continuous commitment to BMX. DK has never jumped in and out of BMX, but has been on the gate every year for over forty years. We agreed that DK needed to push the envelope on what's possible with a high end, Olympic level race frame. We needed to design and develop a flagship model for the DK brand.
The Zenith project sketches began with rear dropouts that incorporate flat mount disc brakes that slide with the axle. Simply bolting a post mount disc brake on a DK Professional frame wouldn't push the envelope.
Flat mount disc brakes are gaining popularity and made sense for BMX. Flat mount are smaller and lighter than most traditional post mount disc brakes. We opened tooling for almost every part of the Zenith frame. We were especially adamant about the custom seat tube having a wider stance to stiffen the bottom bracket. The Zenith frame took the geometry from the long proven Professional frame and added a 4X version with 22.5" top tube.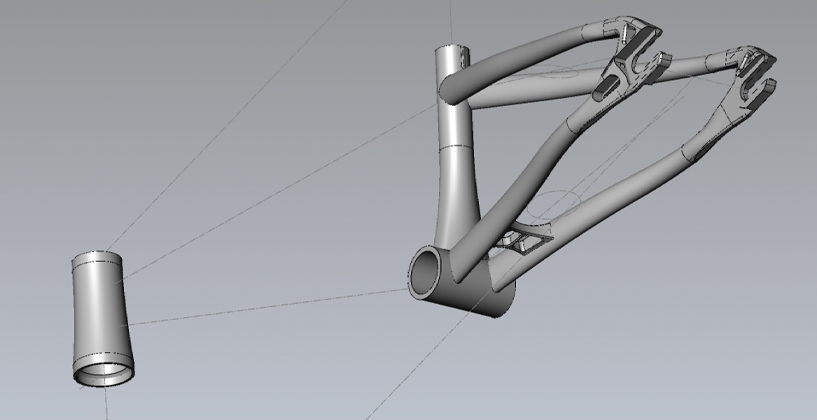 Due to the complexity of the rear dropout and sliding brake system, we had a 3D print made of the first Zenith prototype. This was the best way to tell if the system worked. We found a local company that manufacturers 3D printers.
They'd just built a machine large enough to print the entire frame in one piece. The printed frame was assembled into a rolling sample. The plastic frame wasn't strong enough to ride, but proved that the dropout system performed as designed. Minor changes were made and updated drawings were sent to the frame maker for prototypes.
Dayton based DK riders Tommy Zula and Josh Smith were the first riders to test sample frames. It was important to test locally and work out any bugs before sending other prototypes out to the team. Both Tommy (XXL) and Josh (XXXL) were convinced they were faster on Zenith prototypes than their Professional frames.
We continued to keep them under wraps with secret sessions at Dayton Indoor. Spencer Cole and Kai Sakakibara were sent samples for more intensive testing. All four riders were given strict rules for social media — no photos of your bike on the non-drive side. It was much harder to hide in videos.
The Zenith frames performed exceptionally well on the track. The prototypes had CNC machined dropouts, so making small changes was easy. Opening tooling for forged samples would be expensive and final, so we needed to identify necessary improvements.
We learned that linear cables are much quieter than traditional spiral housing for internal cable routing. We highly recommend linear cables on the Zenith, Professional-X, and new Sprinter frames with internal cable routing. Kai and Tommy both rode hydraulic disc brakes on their prototype Zeniths. Hydro's perform better than cable actuated brakes, but require a skilled mechanic and a bleed kit.
We spec'd cable actuated disc brakes on the Zenith complete bikes because they work well and are simple to work on at the track. Using a V-brake lever will rob you of braking performance. We chose 140mm rotors based on being a common size and readily available.
The amount of communication between the riders, DK and the factory cannot be understated.
Emails, Skype calls, revised drawings, revised samples, air freight, measuring, assembling, riding, testing, and inspection went on for almost two years. The Zenith prototype frames were finally approved for production in late July, 2019.
Tooling was opened for tubing and the sliding axle flat mount brake system. A few months later the very first production frames were shipped to DK for the Grands. Four more were sent to Kai and Saya Sakakibara in Australia. We proudly displayed the Zenith 4X, Zenith Cruiser, and the 3D printed plastic prototype at the 2019 Grands in Tulsa.
The Zenith project began in September, 2017. Production frames arrived at DK in February, 2020. It was the proudest container unload in company history. We celebrated by shipping Zenith Disc frames and bikes to our customers.
Wowza! That IS as inside as you can get without running out for Chipotle for the crew.
A big thanks to Steve Buddendeck and Bill Danishek at DK for helping us with this story in such great detail.
Check out the link below for the full specs and ordering info.
---
Links
DK Zenith Frames and Completes on Time2Shine BMX
---