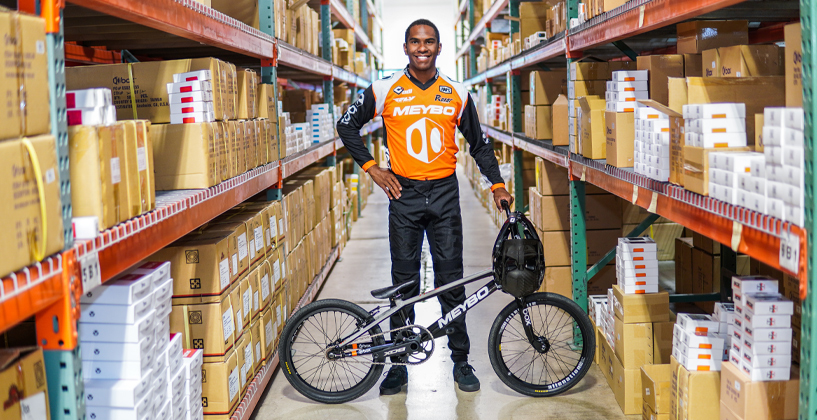 After three months spent recovering from a crash at the Rockstar Energy Bike Park, then a parting of the ways with long-time sponsor Free Agent Bicycles, we are glad to see Alec Bob's smiling face back in the BMX News headlines.
Alec has joined Team Toby over at Box Components for a more-than-the-usual-cookin relationship. Here is a video that Toby and Alec recorded at Box HQ in So Cal.
Here is what Box told news, in a release:
You'll all recognize this familiar and friendly face as Alec Bob's. After all, he's been racing BMX for years and has a World Title (2017) to boast about; although he doesn't! Alec's passion drives him to continuously work on his racing skills, and goals. What none of were aware of was that over the past weeks, Alec had been in touch with Toby Henderson, (President of Box Components).
Just in case you didn't know Toby is also a former BMX champion and current-day legend. After a couple of challenging interviews and expansive discussions, Alec decided to pack his life up and head out west.
Alec is now embracing the next step in his career with a glowing opportunity as Box's new Events & Sales Associate. He has also stepped up as a Team Manager for the Box Factory Team. With his combination of Professional riding experience and a degree in Business Marketing from Marian University, let's see what Alec brings to the table.
Upon his arrival at Box, Toby Henderson interviewed Alec to find out what his plans, goals, and ambitions were as the Events & Sales Associate at Box. Watch the interview to learn more.
Hard to say just-when we'll see Alec–or any of our favorite pros– on the track again, but ABob will be dropping periodic content to keep our attention focused on what he and Box are doing during the down time. BMX News will bring you those stories first, so keep it right here.
—Mike Carruth
---
Links