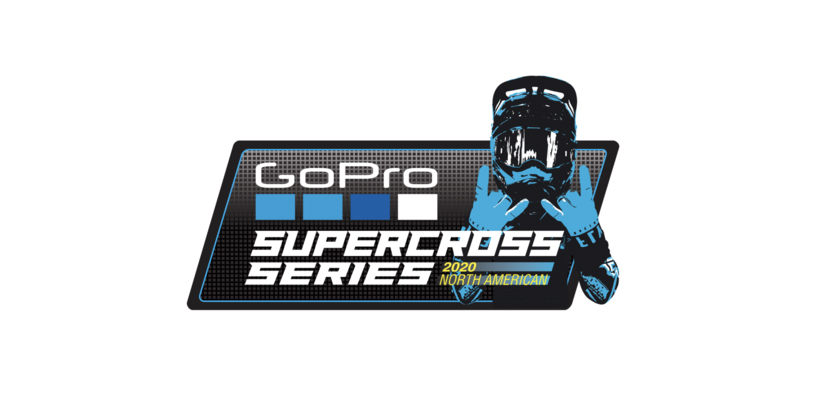 As the focus turns to the Rockstar Energy Bike Park in Houston for the Lone Star Nationals this week, we learn of a new sponsor for the five event series.
GoPro will expand their involvement with the USA BMX National Series, and offer a $10,000* purse ($5k for the men and $5k for the women) for the top three high-points earners from the SERIES of four Supercross level events, and then a new "GoPro Cup" finale at the Race of Champions in Tulsa this November.
The top three get paid: $3,500 for first, $1000 for second, and $500 for third.
Here's what USA BMX told News, via a release:

USA BMX and GoPro are teaming up once again to introduce the 2020 USA BMX GoPro Cup Series!
This exciting new series will be centered around the USA BMX Supercross events and culminate at the Race of Champions in Tulsa, OK.
The GoPro Cup Series features a $10,000 series purse for the Men Elite and Women Elite classes.
2020 GoPro Cup Series events include:
– Gator Nationals, Sarasota, FL – February 21-22
– Lone Star Nationals, Houston, TX – March 7
– Carolina Nationals, Rock Hill, SC – March 27-28
– Derby City Nationals, Louisville, KY – September 4-5
– Race of Champions, Tulsa, OK – November 27 (Cup Championship)
Men Elite and Women Elite riders will earn scores based on the following point system during the 2020 GoPro Cup Series events:
Points Table for "GoPro Cup" Series
Supercross Events
20, 19, 18, 17, 16, 15, 14, 13 for motos
40, 38, 36, 34, 32, 30, 28, 26 for mains (quarters & semis not scored)
Race of Champions
40, 38, 36, 34, 32, 30, 28, 26 for motos
80, 76, 72, 68, 64, 60, 56, 52 for the ROC Main (quarters & semis not scored)
Fans and social media watchers have, for years, lent their voices in support of "paying the pros more." It appears USA BMX is listening, and has brought GoPro to the proverbial table to help make pro racing more exciting for fans, and more lucrative for riders. It's not megabucks, but it's a start.  Let's focus on the ACTION!
Now, fans and riders need to do their part.
Elites need to show up and race. The first event in this series has taken place already— last month, in Sarasota. There were 11 Elite Men and FIVE Elite Women. Needless to say, that is sorely lacking.
Fans need to show more excitement about pro racing. If they are at the race, bring the kids to the fence line and cheer on your favorite pro. Don't have one (many kids don't), pick one, and get behind him/her like any fan would.
This is the opportunity to get excited about Pro BMX Racing again. Let's not blow it.
*Edit:  BMX News first published the purse size as $20k total, ($10k each for the men and women).  We apologize for the error.