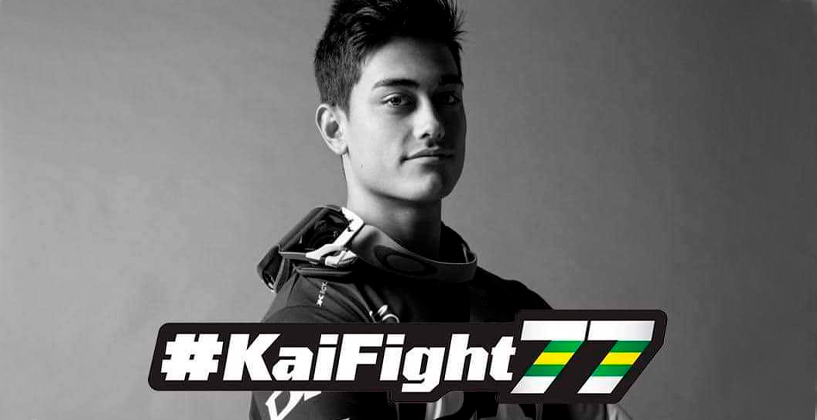 BMXers around the world have been closely watching, and praying for good news about the condition of DK's Australian Ace, Kai Sakakibara. Kai was critically injured in the first-and-only racing round of the Bathurst, Australia UCI BMX Supercross World Cup race on February 7.
Immediately following Kai's crash in the second turn (and over an hour tending to Kai on the track), the day's racing was canceled, due to weather, and then the following day, as well. There is no visual indication that the deteriorating weather contributed to Kai's crash…he just seemed to land wrong, and hit the pavement HARD.
Since then, his fellow riders in the international Elite BMX community have banded-together to contribute over 100 items to a benefit auction, to raise money for the extraordinary expenses involved in his continued treatment and care.
It's been more than three weeks since the last update on Kai's condition. This week, the Sydney Morning Herald posted an article which quoted his family, and gave a chilling account of just how serious his injuries are—but with a positive outlook at-present.
Kai is still in intensive care under 24-hour monitoring and support. A few weeks ago doctors were not confident he would survive, but he has been fighting hard and doctors are now more optimistic he will make it.
Kai has not woken up yet so doctors don't have any real idea of the extent of the injury. However, they do know he had a severe knock to the head and they tell us rehabilitation will take many, many months.
At the moment Kai is hooked up to a number of crazy machines that are beeping, flashing, showing numbers and strange wave forms. He's being fed intravenously and is on a respirator to help with his breathing.
The nurses looking after Kai 24/7 are doing an amazing job and taking great care of him. The immediate goal is to get Kai off the respirator as soon as possible so he can move out of the intensive care unit and onto the next step in the process.
As of this writing, the auction has pledged AUS $36,360 (USD $24,073) for the cause, the top bids so far being a Sarah Walker Jersey, at USD $2,112, and Caroline Buchanan's 2013 World Championship complete race bike–current bid USD $2,085.
The auction ends at 3AM on Saturday, March 7, US Eastern Time (7:00pm, Saturday 7 March 2020 Sydney, Australia time). There are some AWESOME items up for bid, so DON'T WAIT! Get your account set up and your bid posted NOW!
Please click the link below to get involved.
---
Links
Kai Sakakibara Benefit Auction
Sydney Morning Herald Article on Kai Sakakibara (Mar 4, 2020)
*Story Edited 2PM CST, 3/5/20: Our original post incorrectly stated the World Cup stop at which Kai's accident occurred. It was Bathurst, not Shepparton. Thanks to News reader, Michael Carruthers for the correction.