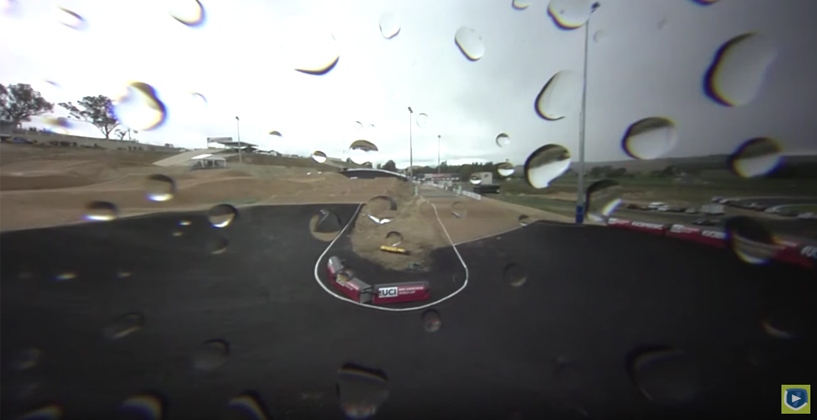 Updated on Sunday Feb 9: Sunday was also canceled, and no racing took place.
Day one of the UCI BMX Supercross World Cup stop in Bathurst, Australia was canceled due to weather on Saturday. Bathurst was/is set to be rounds three and four of the 10-round series.
Earlier in the day, it was announced that racing would be run off the 5-meter hill, due to high winds at the track site.
With a rider count of 138 riders in 18 motos, the Elite Men got one round of racing in the books, before the day one race was canceled. That cancelation call was made after an hour-plus delay to tend to Aussie Kai Sakakibara.
Sakakibara crashed in the second turn, of the final moto, and suffered injuries which left him in "critial, but stable condition," according to a release by BMX Australia. That same release said that Kai was flown to Canberra (about 150 miles away) for treatment. He is in our prayers today, and we wish him a full and speedy recovery.
With the subsequent rounds of racing canceled, the lap times of the first round's 18 Elite Men motos were used to determine the final classification order, per UCI BMX rules. Connor Fields had the best time, and was declared the winner, Kye Whyte (GBR) and Corben Sharrah (USA) rounding out the podium.
Here is what Connor said after the call was made:
The Elite Women are another matter; there was no Elite Women racing on Saturday at all. Consequently, is is not clear how, or if, the women will get a score for Saturday. UCI Rules state that if a racing day is canceled, there will be no makeup round.
If the whole weekend is canceled, the promoter may reschedule it. But, since the men raced, does that mean the weekend was not canceled? The cul-de-sac that is the UCI rulebook is not a fun place to find oneself.
Meanwhile, here is the bmxlivetv coverage of the first round (coverage is, essentially over at the 37 minute mark).
No word on Sunday's racing yet–that decision will be made on Sunday morning, local time, but the weather forecast looks like rain all day. We will keep tabs on things, and report here with developments.
—Mike
---
Links