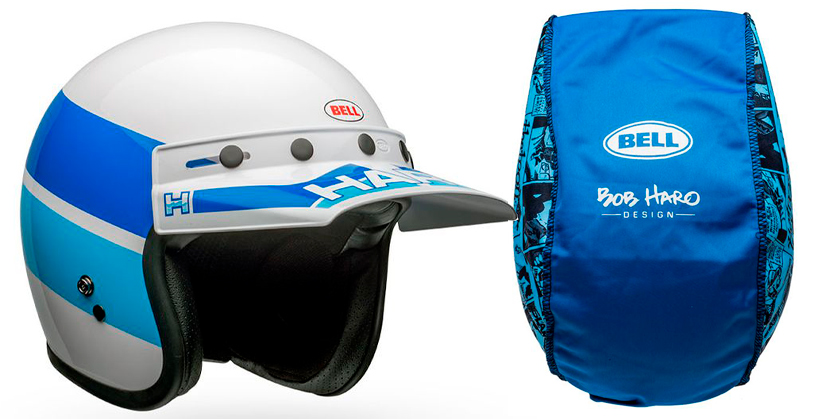 From the drawingboard of BMX industry and freestyle legend, Bob Haro, comes a limited-edition helmet that is a new-era take on his classic tour helmet from the 1980s.
Developed in partnership with Bell Helmets, Bob's signature open-face, with-two-blue-stripes design is constructed from modern materials in the shell and liner, but includes some old school touches, like the Haro visor and mouthguard snaps pre-installed.
Only 250 units will be manufactured, and they are available exclusively from the Bell Helmets website (link below). Priced at $189.95, the lid comes with a custom helmet bag, featuring Bob's cartooning and iconic signature.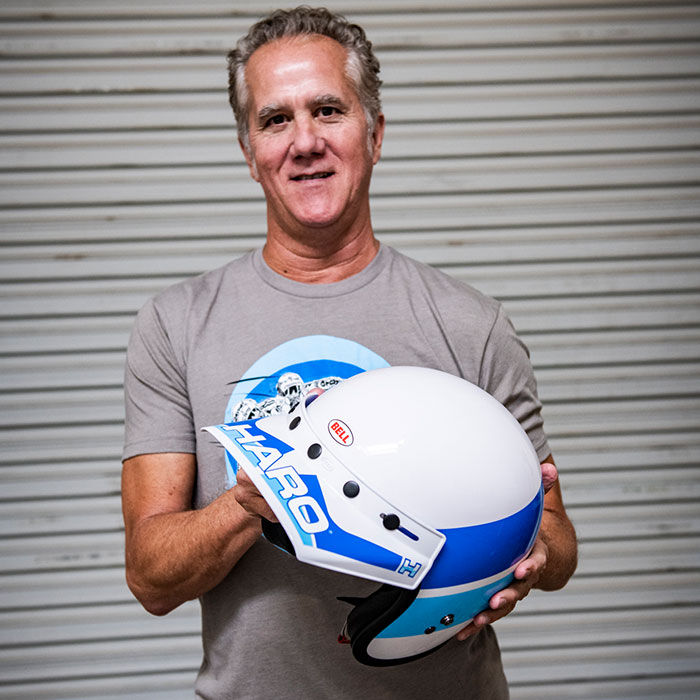 For those interested in a brief history lesson, Bob Haro invented the BMX-specific "Factory Plate" in the late 1970s, while on a cross-country tour with SE Racing's Scot Breithaupt…then bending plastic over his mom's stove, ultimately starting a proper business while employed as the staff cartoonist for BMX Action Magazine.
Here's an interview of BH by Eamon Hassan on working for BMX Action Publisher Bob Osborn:

His company, Haro Designs, was a major player in the 1980s BMX Industry, and propelled Bob into the rarified ranks of the self-made BMX millionaires of the time.
Bob is credited as one of the inventors of BMX Freestyle, and his 1980 tour, with teammate Bob Morales, brought ramps, rock-walks and roll-backs to tens of thousands of BMXers across America and around the world.
Bob sold his company in the mid 80s, and it lives on today as Haro Bikes, which we're sure you know as a household name in the modern-day BMX Racing and Freestyle scenes.
For his part, Bob didn't retire on his 80s cred and cash. His Haro Design studio serves major brands in consumer goods, corporate identity, apparel and other projects.
Five shell sizes are available: SM, MD, LG, XL, 2X. Click the link below to check out the specs on the Bell "Custom 500 SE Haro"
---
Links