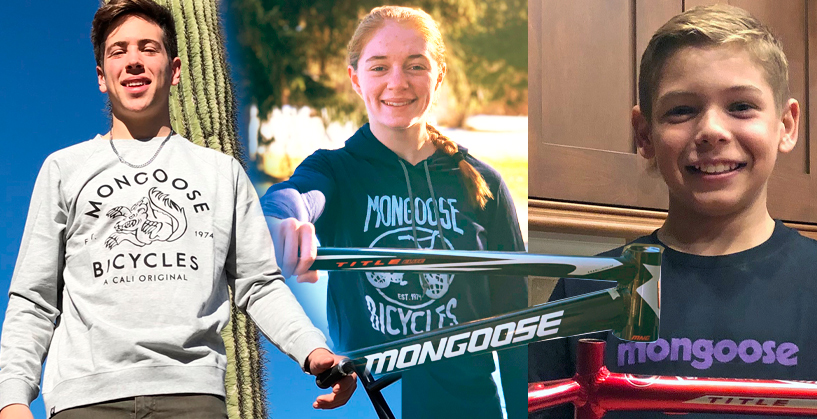 Mongoose has been slowly, but surely, making its way back into the mainstream ranks of BMX Racing brands. Sure, there will always be haters who can't wait to point out the brand's big box affiliations, in the context of any serious BMX Racing discussion. But even those poison pen types need to give props for some of their moves these-past years.
Four model years-running, the Mongoose Title complete race bike has been the go-to beginner-level bike for tracks and League riders.
Their timing lined up precisely with the launch of BMX Racing League in 2016, and the "Age of the Beginner" movement in 2018–bringing Beginner programming to the fore, as it had never been before, in the history of the sport. The price point of the Title complete line was unmatched in that strata of the market, and it got serious traction, right away.
We now see a ton of silver (2018), blue (2019) and now red (2020) Title completes in the loaner fleets of tracks from coast to coast, and also rolling in on the bike racks of beginner/novice families. Mission accomplished, indeed!
All-the-while, Mongoose has been decidedly-cautious about jumping in to the mainstream of BMX Racing. But, like we said above, that has been evolving slowly-but surely, and is jumping to a new square on the proverbial game board, with some fresh news.
Today, via a release, Mongoose told News about three 2020 team additions, hand-picked by Justin Posey– who joined Mongoose as their lone national-scope rider, for the 2019 season.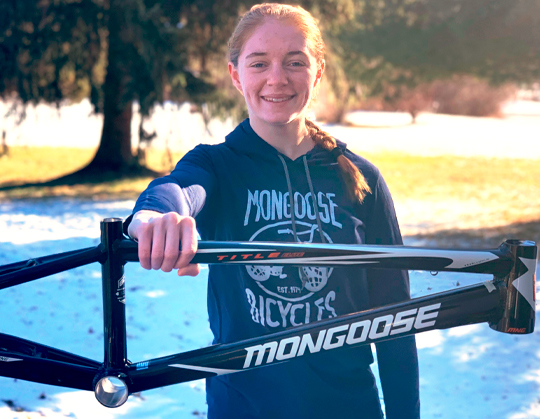 Payton Ridenour is a seven-time USA BMX National Champion and is one of the top ranked Amateur riders in the US Payton rides multiple cycling disciplines and won the prestigious UCI Red Bull Pump Track World Championships in 2019. She placed 4th in the world for Jr. Elite Women in 2019 and is looking to capitalize at the 2020 World Championships. The epitome of a student athlete Payton is able to maintain straight A's in school!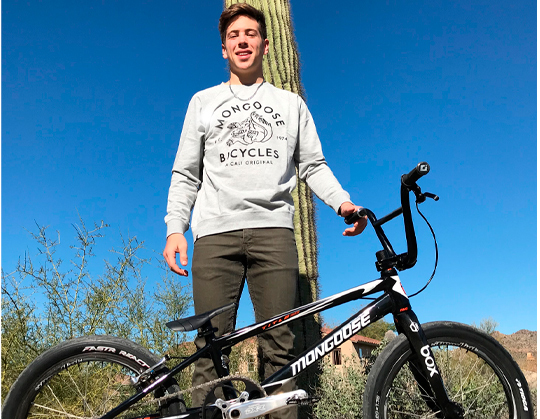 In 2019, Cameron Wood was the top Junior rider in the U.S. winning 17 National events He represented team USA in both Lima, Peru, for the Pan American Games and in Zolder, Belgium for the World Championships. Cameron has emerged as one of America's top hopefuls for future Olympic Games.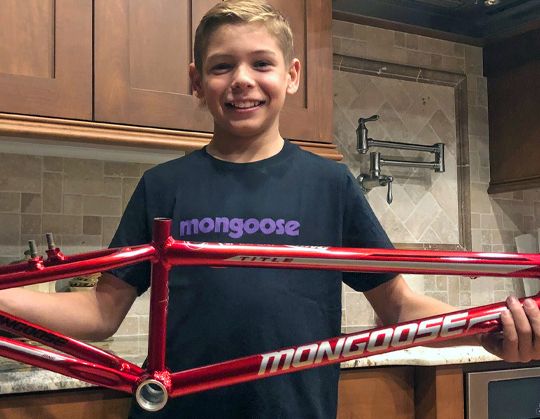 Mason Hayes is an 11-year old ace from Denver, NC, who brings a variety of skills to the Mongoose team. Not only is he a top 10 amateur racer for his age group, but he also enjoys mountain biking, rock climbing, and scuba diving. In addition, Mason placed first in the USA BMX Race of Champions in 2019 while focusing on his studies and continuing to be a role model in the classroom.
---
Carrying over from 2019, Mongoose will continue their support of the BMX race teams La Revolution Café, Racer Concepts and Hooligan Racing New for 2020, Mongoose will add Focus Factory and Mongoose Factory (UK).
The new riders will be riding the Mongoose Title Elite frame, which is the rich-uncle-with-monocle version of the Title complete frame. The Title Elite also comes as a complete bike, and is a pretty sweet complete (MSRP: $529).
We expect to see the full squad make their public debut at the 2020 USA BMX Winter Nationals in Phoenix, next month.
—Mike Carruth
Links