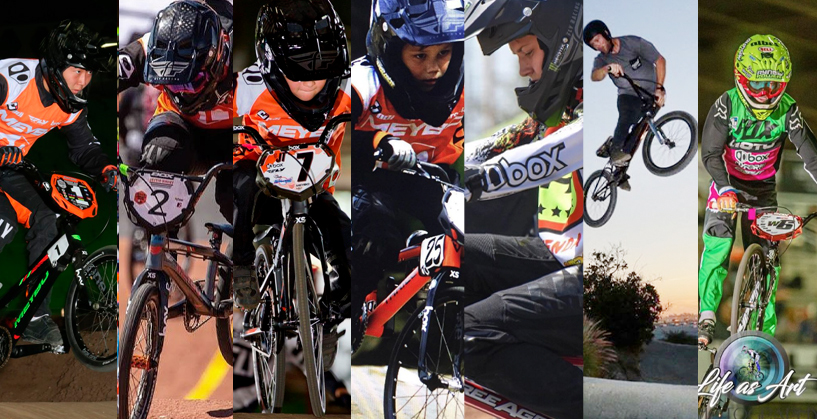 Aside from being co-sponsor to-the-stars and household-name factory teams, Box Components also has their own in-house, suited-up in orange, black and white, factory team. We're sure you knew that, of course, but for those joining the program, already in progress, we thought we would intro-you to the full roster, complete with some highlights from 2019, plus some new additions for 2020.
Pictured from left in above photo.
RONNIE KIM
Ronnie's been rockin' the UCI BMX W1 plate since 2016. In 2019, he bested the best in his class for a fourth consecutive year, and will bring the striped skinny-digit to the 2020 Worlds in Houston. Speaking of home shores, "The Assassin" also killed it in the USA BMX national series, racking up his seventh-straight National Age Group ace plate.
JUSTIN HAILEY
The guy from Orange (CA) showed the comp some Box-orange blur, all season long. Fiercely-focused and making all the right moves, both on Raceday and in training, the 17-20 expert star-on-the-rise rides into 2020 as District #1 in CA-03, and is hot to build off his best finish last year— a second at the Great Northwest Nats in Redmond, OR.
JEMMA TOLLEFSON
"Lil JT" had an awesome year racing the USA BMX National circuit for the first time. She faced challenges throughout the year, but cranked her BOX-equipped Meybo Holeshot to a host of hefty hardware and primo plates: Race Of Champions (ROC) #1, National Age Group (NAG) #2, National #18, North Central Gold Cup #1, Minnesota State #1, and Rum River BMX Fire & Ice overall girls/women's #1. She's having so much fun racing, traveling, making new friends, and goofing around with everyone.
BRAYDEN HIGGINS
Brayden has been making waves beyond the beach burgs of his native Southern California, hitting up the state series (top 10 on both bikes), Gold Cup and a few choice nationals in 2019. He'll be puttin down the power in a big way in the new year, so keep an eye on the top of the results for him.
NATHAN KITCHEN (New for 2020)
Fresh to the Factory squad in 2020, Nathan had his fair share of misfortune in 2019, with two broken arms and a broken collarbone early in the season. He was back on the track in June, and got-about the kind training that a top-hand 14x needs to put in. In 2020, you'll see Nathan takin care of business in class and cruiser on the BMX track, and rippin-up the downhill and dual-slolom ranks on his Mountain Bike.
JUSTIN McLINTOCK – TEAM MANAGER
Whether he's swapping stories in the pits, or swapping the BMX bike for the MTB, the new Box team leader is the man to tell-it-true. He's been high-tailing it on two wheels since Reagan was president, and News is stoked that his boarding pass was upgraded to "Athlete and Team Manager" for 2020. You'll see him hitting warp speed into turn one in Vet Pro, and hear him giving back as good as he gets in the post-race trash talk. All in good fun of course.
RYDER LAWRENCE (New for 2020)
Ryder was in the mix on the state, national and international level in 2019. He raced 11 weekends last year, and ended up with 10 wins on cruiser, nine wins in class and a win in open. Final score: NAG 3 in class and NAG 8 in cruiser.
Product Patrol
Keep an eye out for all seven of these hotshots as the new season ramps-up, plus keep your browser pointed to BMX News for the full scoop on new additions to the Box Components product lineup.
---
Links