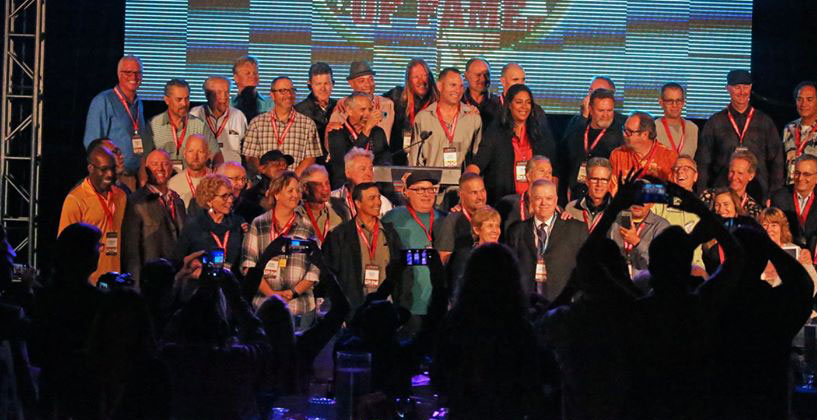 We hear it every year, "so-and-so MUST be in the Hall Of Fame!" What a lot of people don't know is that inductees into the National BMX Hall of Fame are not selected by a "College of BMX Cardinals," sitting, sequestered, in an abandoned registration shack somewhere.
It all starts with someone like you nominating one of those very-deserving BMX luminaries, who made a genuine difference in the sport, from your point of view. Nominations are open once annually (in this case now, through January 31).
Each year, the second, third and fourth place finishers from the previous year earn an automatic nomination for the following year. In 2020, those automatic nominees are as follows:
PIONEER: Mat Harris, Stanley Robinson & Bobby Woods
RACER: Randy Stumpfhauser, Matt Hadan & Greg Romero
INDUSTRY: Howie Cohen, Charlie Danishek & Jim Jannard
EARLY FREESTYLE: Dave Vanderspek, Kevin Jones & Jeff Watson
FREESTYLE: Kevin Robinson, Jay Miron & Corey Nastazio
WOMAN: Kim Johnson, Tara Llanes & Bonnie Hutelin
There is no need to re-nominate the following people listed above.
"Anyone can nominate anyone" means that you, nor the person you nominate do not need to be part of some kind of "inner circle" of connected BMX-elites. At the same time, only FIVE new nominees will be on the final ballot, so make your case in a compelling way.
Use the link below to take a look at the ballot, and the information you will need to put together the supporting information needed for a complete nomination.
—Mike
---
Links