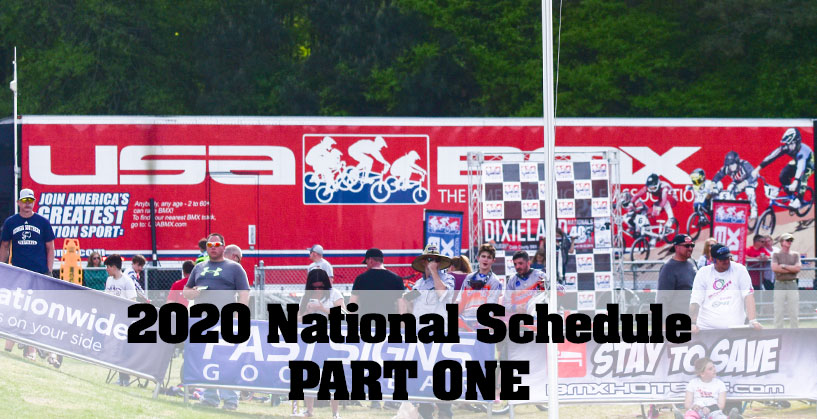 One of the most anticipated days for BMXers who ride the USA BMX national series is the day we get a peek at the first half of next year's racing schedule. Of course, it inevitably leaves us hungering for the rest of the meal, but the appetizer portion served up today is more than enough to keep us tied-over til the rest of it is served up (before the Grands, usually).
This early-season preview shows us the first 18 races of the season, including the FOUR opportunities to qualify for the 2020 UCI BMX World Championships in Houston, next May.
Here are the races, as posted by USA BMX: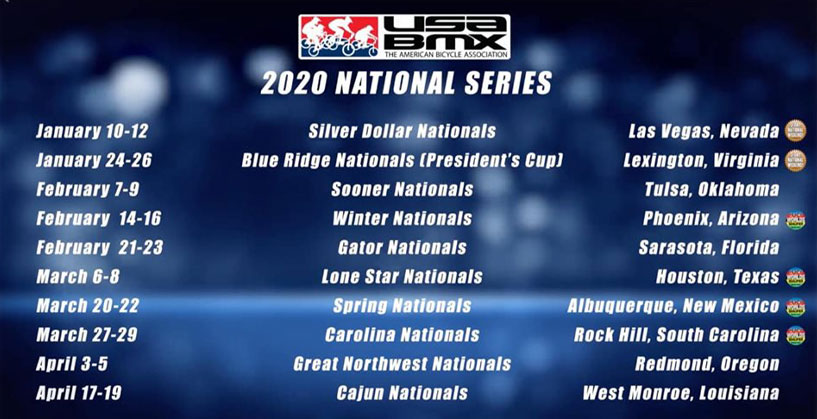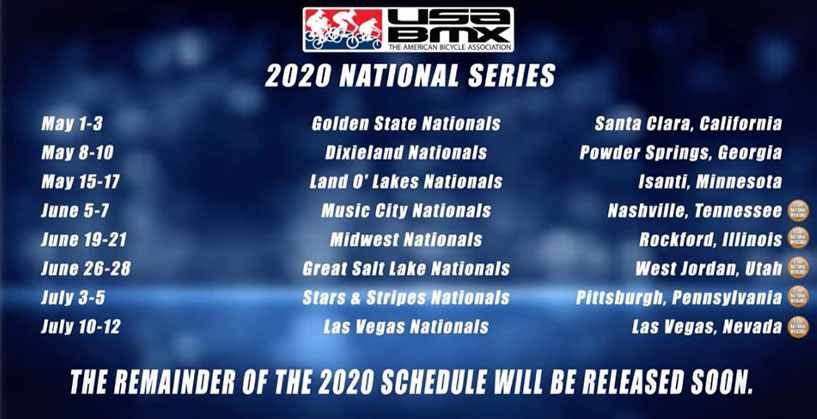 A Few Observations
– The normal Louisville race in the winter has been moved to Lexington Virginia, to become the Blue Ridge Nationals. It will be a three-day race, and also President's Cup weekend. That location once hosted the 2008 NBL Christmas Classic, and is definitely a point of excitement for East Coasters.
– With Oldsmar still out of commission, and its future not-yet-publicly-certain, USA BMX has moved the Gator Nationals to Sarasota (February 21-23).
– The four Worlds qualifiers will take place in:
Phoenix (Winter Nationals) – Feb 14-16
Houston (Lone Star Nationals) – March 6-7
Albuquerque (Spring Nationals) – March 20-22
Rock Hill (Carolina Nationals) – March 27-29
Traditionally, Friday of these races has been the qualifier day, though such details have not been announced, and likely won't be for some time yet.
– No word yet on which race the USA Cycling BMX Elite National Championships or the USA Cycling Collegiate BMX Championships will be pairing up with.
– This is one of the few years in memory where there was not a national race on Memorial Day weekend. Due to the Houston Worlds, starting the Tuesday following that weekend, it is understandable to clear the calendar space. 202 UCI Worlds runs May 26-30, 2019 at the Rockstar Energy Bike Park.
– The Music City Nationals, which usually run on Memorial Day, will run the following weekend, on June 5-7.
– The schedule tells us which stops are three-day races (seven stops out of 18), but we do not yet know which are pro series races. South Park is usually a pro race, but it is only a few weeks between July 4 and July 30, when the BMX Racing events kick off at the Tokyo Olympics. It will be interesting to see if the tail wags the dog on that one (meaning "do we not schedule a traditional pro race because SOME of the 48 people who would normally come can't make it?").
BMX News will bring you more coverage of the 2020 USA BMX National Schedule when it becomes available.
—Mike