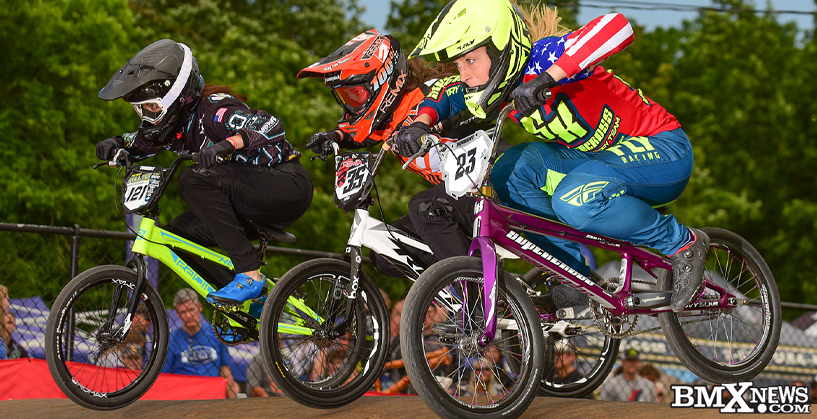 Roughly one year out from the Tokyo Games and it's clear that countries and riders are doing what they can to ensure that they are not only qualified, but also battle tested against the world's best. This past weekend saw races in the Czech Republic, Slovenia, and the always-popular USA BMX Midwest Nationals in Rockford, IL.
The two days of the "King of Prague" saw the weekend's biggest surprise. Local hero, Dominik Topinka, beat a world class field that included names like Andre, Whyte, Blanc, and Evans. I watched the video and it was not a fluke; Topinka won wire-to-wire. Also note that you had riders from Australia (Sakakibara) and Argentina (Villegas) who extended their post-Paris SX tours to get in some more Euro comp and points. Kyle Evans won on Sunday with World Champ Sylvain Andre in second and Kai Sakakibara completing the podium.
Over in Slovenia Denmark's Jimmi Therkelsen took the win off a modest field that also saw Italy's Mattia Furlan and Germany's Kay Stindl in the main; both of whom are making a little noise on the UCI circuit.
Team USA Points Update
The Rock went off with some rain as usual, but also saw Felicia Stancil (pictured above) take the win both days (the site of her first ever national win, too). Ashley Verhagen visited the podium both days while Amanda Carr finished third on Friday. Brooke Crain recovered from a wreck on Friday to get on the podium on Saturday. Connor Field's Paris SX crash must not have been too bad because he returned to form, winning both days at the Rock.
In the overall Olympic points there was not much change. The USA women padded their lead with Stancil and George both getting points in Rockford (Alise was at a wedding). Despite two wins from Fields and two other finishes from Sharrah the USA men only netted 20 points. This brings up an important aspect of the UCI rankings. They only consider a limited number of each type of race.
The Midwest Nationals were a Class 1 (C1) race; of which, the UCI only counts the best seven finishes. Fields' win (60 points) replaced a 40 point score from last year. Note: at the time of the points update (18 June 2019) it doesn't look like the Friday scores/results have been posted yet. Considering that, Connor should replace another lower score with his Friday win; giving the USA another 20 points. By my calculations Sharrah should gain another ten points for his second place.
The only move in the rankings sees Denmark (Christensen) pass Canada up to tenth place in the women's Nations Rankings on the strength of Simone's two wins in Prague.
Update to Last Week's Report
After we posted last week's update it was brought to our attention that there was another twist in the UCI's Olympic qualification process (thanks to Martijn Jaspers). In an effort to be inclusive the UCI wants Olympic representation from every continent.
To ensure this they are saying that if a continent is not represented in the top eleven in the Nations Rankings then the eleventh spot will be given to the highest ranking country from the unrepresented continent; leaving the actual eleventh ranked country to find other means of getting to Tokyo.
Currently that would be Russia and Canada for the Men and Women, respectively. That being said, Africa is the unrepresented continent in both the Men's and Women's rankings. South Africa is the highest ranked country for the men (13th). In the past they were very well represented by Sifiso Nhlapo and still have an active race scene. The women, on the other hand, is a different story.
Egypt is the highest ranked African country on the women's side (26th). I'm not personally familiar with names like Elebstawy, Elsayed, and Aatia and it appears that their only points come from the African Continental Championships (2018) that were held in Egypt. Also, keep in mind that just because a country is offered a quota spot doesn't mean that they have to accept it.
In most cases if a country knows a rider is not competitive they won't spend the money to send them to the Games; or, at least will fund a different athlete for another sport in which they have a chance to do well. If Egypt were to decline the quota spot then the actual eleventh ranked country would then be qualified (not going to the next ranking African country, but just the next highest ranked country).
Asia is not represented in the top eleven, but they are the host nation so they will be guaranteed a spot which means the above rule doesn't apply to them.
There are five continents in the UCI structure; Africa, Asia, Europe, Oceania, and Pan America. For previous Olympics, BMX was broken down with North and Latin America being separate; which included separate Continental Championship events. Now there is only one, and for the past two years it has been awarded to a Latin American country and had no United States representation.
This coming weekend will see C1 races in Utah (USA BMX Great Salt Lake Nationals) and Korea (Yang Yang BMX International) as well as the Norwegian National Championships. Check back next week for updates.