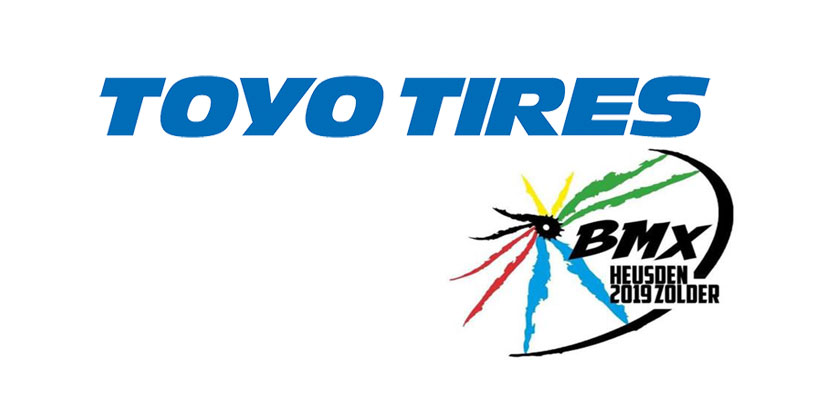 As the date gets closer for the 2019 UCI BMX World Championships in Zolder, Belgium (July 21-27), news about the pre-planning of the event is starting to trickle in to the BMX News Global Command Center.
This week, we learn that Toyo Tires of Japan has become an official partner of the Worlds, and will receive starting hill branding, as well as banner space around the track and surrounding grounds.
To the best of our knowledge, Toyo does not make a BMX tire, but is apparently getting involved with UCI "to increase their visibility among young sports fans who enjoy watching the extreme challenge of BMX racing," as noted in a release. Good answer, as far as we're concerned.
The brand also sponsors Japanese athlete Neneka Nishimura on whom we don't have much information, but may be 15 yrs old, based on her Instagram profile (so not-as-yet a Junior or Elite athlete).
Keep an eye out for the Toyo branding on your trip to Zolder, or on the livestream.
Here is the published release, via ToyoTires.eu
Toyo Tires announces that it has become an Official Partner of the UCI BMX World Championships 2019 which take place from 21 July to 27 July at Zolder race circuit, Belgium
Organised by the World governing body of cycle racing – Union Cycliste Internationale – since 1996, the BMX World Championship are the pinnacle of competition in this explosive, all-action sport. BMX, or Bicycle Motocross races are held on purpose built courses, which challenge the riders combining tarmac, loose surfaces and jumps. At Zolder, each breathtaking race, over 380 metres, will be completed in just 30 seconds by the elite riders.
Toyo Tires have partnered with the BMX World Championships to increase their visibility among young sports fans who enjoy watching the extreme challenge of BMX racing. With logos positioned around the circuit including on the start ramp, the brand will be seen worldwide through the championships.
Competitions to win places at the event will be held in the weeks before the championships to allow fans to see the action live and more details about that can be found on Toyo Tires website and social media pages.
Toyo sponsored athlete Nenaka Nishimra*, from team Gan Trigger in Japan will participate in the women's championship.
*Editor's Note: The release incorrectly identifies the sponsored athlete, who's name is confirmed by BMX News to be "Neneka Nishimura."